Category_Education
Ingredient Spotlight: Jojoba Oil Benefits For Skin + Hair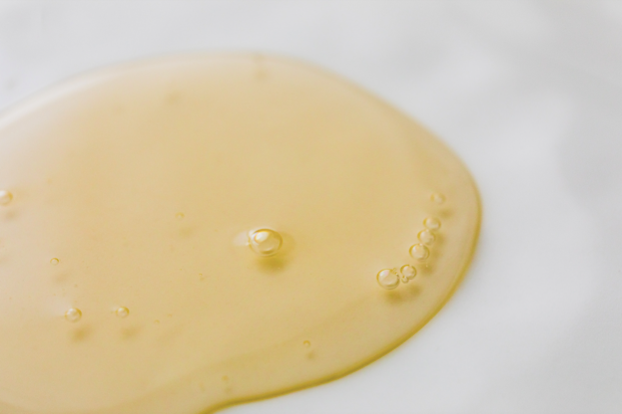 Ingredient Spotlight: Jojoba Oil Benefits For Skin + Hair
It's not a regular oil, it's a
cool
oil.
Ninety. That's how many types of essential oils there are. Each sporting its own unique smell and potential health benefits. Although I'd love to go off on an enormous tangent getting into the nitty gritty of the wonders of each essential oil (makes a mental note for a future blog post), I'm here to share just one: Jojoba oil. This nutrient-rich essential oil does wonders with every drop. If you're looking for a skincare ingredient that both nourishes and protects your skin, lips, hair and then some—look no further. Oil Origins Up for a little history lesson?
According to The Jojoba Company, "The word 'jojoba' (pronounced ho-HO-ba) refers both to the desert plant and to the extract obtained from its seed." Native to Arizonan deserts, northern Mexico and parts of California, it was the Native Americans who first discovered its importance and versatility during the early 18th century. It's naturally antibacterial, antifungal, antiviral, analgesic and anti-inflammatory. And now we're here—infusing its healing properties into our natural skincare regimens. And get this—it's not an oil, but actually a wax ester shockingly similar to the natural oils that are found on our skin.
An added bonus considering the oil is better able to penetrate deeply for maximum nourishment. Jojoba Oil For Skin Remember when I mentioned jojoba oil's ability to closely mimic our skin's natural sebum production? This little trick is good news for anyone with dry or irritated skin. "When you put jojoba oil on your skin, your skin is soothed and moisturized. This sends a signal to your hair and sweat follicles that your skin doesn't need additional sebum for hydration," according to Healthline.
Say hello to your very own natural facial conditioner. Jojoba oil acts as a protective barrier and works to seal in moisture. Since it's similar to sebum, regular application can help prevent the overproduction of sebum. So long clogged pores and breakouts! Time to bring back balance and restore your skin's complexion. Jojoba oil is rich—rich in antioxidants that is. Natural forms of vitamin E are among its many properties to work with skin as an antioxidant. It's able to protect the skin from oxidative stress caused by everyday pollutants and other toxin. And works to calm skin, and soften and protect its outermost layer. Have eczema? Give jojoba oil a try to help heal and restore a compromised skin barrier. The oil's analgesic and anti-inflammatory effects are able to soothe dryness and help retain moisture.
Jojoba Oil For Hair What are the odds that you've run into jojoba oil in your hair care products? I'm willing to bet the odds are great. It's a fan favorite ingredient because of its versatile properties that are universally beneficial for hair health. Consider this oil your saving grace for tired strands in desperate need of a restorative boost. So what can it do?
Moisturize From The Inside Out:

This oil has a nutrient-rich structure—97% monounsaturated fats. It penetrates hair's outer cuticle to achieve intense moisture and conditioned hair that's softer than soft. Here's a pro tip: Apply jojoba oil before shampooing to create a seal that's impenetrable by oil-stripping ingredients like sulfates, gross! For an added boost of moisture, apply to damp hair after washing to enrich the hair shaft with nourishing
Maintain Your Scalp's Natural Balance: As a nutrient-rich natural oil, jojoba soothes dryness of the scalp and dandruff because of its similarity to the natural oils that are found on our skin. It'll moisturize the hair and follicles without leaving build up, while assisting in the reproduction of hair cells at a rapid pace. And like magic, hair growth.
Fight The Frizz:

Air drying from a quick wash-and-go, hanging out in the humidity—we've all been there (once or twice...a week) with frizz that just can't be tamed. Frizzy hair craves moisture. Cue the hydrating properties of jojoba oil to help lock in moisture and provide a barrier for smooth and shiny strands. Give your luscious locks a hydrating helping hand by

applying a few drops on damp hair ends to seal the cuticle, using it as an overnight hair mask or adding it to your hair care regimen as a leave-in conditioner to really reap the smoothing benefits.
From the looks of it, this potent multitasking oil is a non-negotiable addition to your beauty routine. Give your skin care and hair care regimens a much-needed boost to ensure a glowy complexion and hydrated look. We've put together some favorites enriched with nourishing jojoba oil to help get you started…
Hair Care Jojoba-La Tierra Sagrada: An everyday moisturizing oil for dry or dehydrated hair. Can also be used as a scalp treatment for regrowth, rebalancing and dryness. Apply as a styling aid to tame frizz and enhance curls and waves.
Skin Care Coconut Milk + Oatmeal With Jojoba Oil Soap-Palermo Body: The most gentle, unscented bar with only seven ingredients. Moisturizing coconut milk and firming oatmeal gently combat skin ailments such as eczema + psoriasis while jojoba oil gently nourishes and heals. This bar is ideal for sensitive or dry skin.
Organic Face Serum With Coffee-UpCircle Beauty: A multi-award winning best selling face serum suitable for all skin types. Boost collagen and keep skin firm with antioxidant-rich coffee and vitamin C, along with hydrating jojoba for added moisture.
Nordic Berries Lip Exfoliator-Henne Organics: A 100% natural lip scrub with a scent reminiscent of fresh picked forest berries. Blended with sugar, beeswax, shea butter, vanilla and lingonberry, oils of coconut, jojoba seed, damascus rose and Vitamin E ideal for replenishing and restoring your precious lips.
Body Care Refining Body Polish (Cafe & Coco) Malaya Organics: Experience a youthful glow. This mineral-rich blend of Himalayan and Bolivian Pink Salts helps slough off dead skin and promote new cell production. Infused with detoxifying Peruvian Coffee and antioxidant Cardamom, this skin-firming formula can help boost circulation and target cellulite. Nourishing oils of Coconut and Jojoba will leave you feeling renewed and
kissably soft.
Makeup Luxury Lip Balm-Henne Organics: Experience luxury every day with this 100% natural and moisturizing organic lip balm. Pure, natural ingredients such as organic and non-GMO coconut, avocado and jojoba seed oils, beeswax, shea butter, cocoa seed butter and Vitamin E replenish lip moisture for the finest lip treatment on the market.
Xoxo, Juzanne Martin PWB Marketing Intern & Content Writer A versatile writer, Juzanne covers beauty, lifestyle, entertainment and fashion news—delivering timely pieces that inform, entertain, mirror current trends and spark social conversations.