Category_Announcements
Meet Zeila Beauty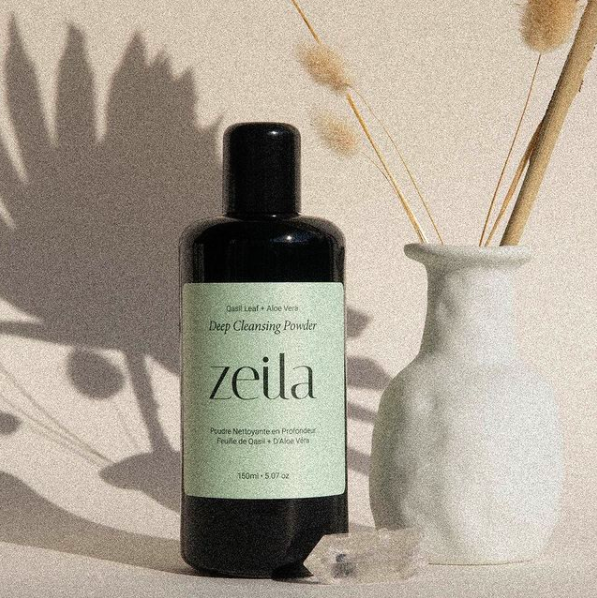 Meet Zeila Beauty
Making Connections in Beauty
It all started on Clubhouse, the new social audio app I joined in October 2020. I was speaking as a moderator in a room about clean beauty and while others were speaking, I decided to browse the people in the audience. After clicking on a few profiles and reading their bios, I came across the profile of a young brand founder named Farrah and her new company Zeila Beauty. I was naturally curious and checked out her brand website. Curiosity quickly turned to excitement and lots of questions. So, I sent her a DM on Instagram to introduce myself and see if she'd be interested in chatting and sharing with me more information about her product—the
Qasil Leaf + Aloe Vera Deep Cleansing Powder
. Fast forward a week or so later, I was on the phone with the lovely, young Farrah Hussein who shared so much knowledge about the qasil leaf—the main
ingredient
in her powder cleanser and a staple in every Somali home, where her family is from. Many women in Somalia can be seen walking around, shopping, or doing errands while wearing a face mask made of the qasil leaf.
Qasil Leaf Benefits For Skin
Qasil, which is native to Somalia, comes from the gob tree. It is hand-picked and dried under the sun, and later ground into a fine powder. It is a simple yet powerful ingredient to cleanse, brighten, and heal the skin. The amazing skin benefits of this mighty ingredient is exactly what inspired Farrah to create her first product. She was suffering from hormonal acne and nothing worked for her. So, she went back to her roots and decided to create something for herself using the powder she saw her mother and other women in her village use her entire life to care for their skin. Not long after using qasil, Farrah's skin was balanced and clear again. It was then that she realized the opportunity to craft a product that she knew would work for others. And hence Zeila Beauty was born. Her first product, a deep cleansing powder, is formulated with qasil leaf, and the addition of
white kaolin clay
and aloe help draw out impurities and hydrate the skin.

Experiencing The Deep Cleansing Powder by Zeila Beauty
After hearing her story, I had to try it myself. Farrah happily sent me a bottle of the cleansing powder to try. Let's talk about first impressions. The packaging was beautiful! The cleanser is housed in black glass (and a very generous amount) for a great price of only $38. That's incredible for a product that does triple-duty—cleanse,
exfoliate
, and mask. I couldn't wait to try it! So, that evening I put a little bit of the Qasil Leaf + Aloe Vera Deep Cleansing Powder in my hand and added some water to create a light, whipped foamy texture. It was so beautiful and satisfying to see the product texture transform from powder to creamy. I massaged it onto my skin, and immediately experienced a lovely silky, yet lightly exfoliating. When I rinsed my face, it felt clean, balanced, and super soft! I could have gotten away with using half of what I put in my
hands
. It was my first time using it after all, and I wasn't sure. But a little does indeed go a long way. After using the Qasil Leaf + Aloe Vera Deep Cleansing Powder for a couple weeks, I noticed a renewed glow in my skin. I was sold! I immediately contacted Farrah and told her that I must have her products available at Pretty Well Beauty, and the rest is history. We are now the official US retailer for Zeila Beauty! I could not be more excited to watch the growth of this beautiful brand and product, which is now one of my new skincare holy grails.
Meet Zeila Beauty: Shop Now