skincare
How To Discover your Skin Type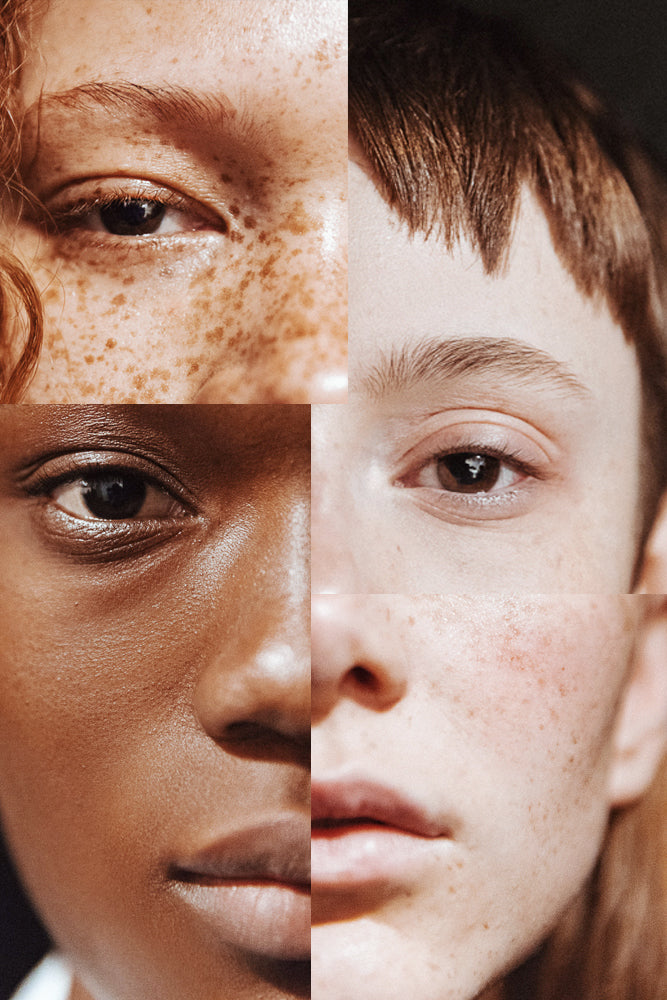 How To Discover your Skin Type
The 5 Skin Types
Everyone's skin has a unique set of characteristics and skincare needs. One of the best ways to determine how you need to care for your skin is to determine your skin type. The five main skin types are: normal, oily, dry, combination, and sensitive. These skin types represent the amount of sebum the skin produces to moisturize the face. However, your skin type can change over time due to age, hormonal changes, environmental factors, and many other reasons. Here are the basic characteristics of each skin type, how to discover your skin type and the best skincare practices for each.
Normal If you have this skin type: congratulations! Normal skin is neither too dry nor too oily. When in its natural state, there isn't a feeling of tightness or slickness. Normal skin has smaller pores, an even skin tone and texture, and is less susceptible to breakouts. Normal skin requires only a simple skincare routine. With little skin problem concerns, sticking to a simple washing, moisturizing, and sun protecting regime should suffice.
Pretty Well Beauty recommends: Marshmallow Face Wash by Earthwise Beauty to cleanse Rose Toner by Honey Girl Organics to tone Ambrosio do Cerrado by Earthwise Beauty to hydrate Protect by Honey Girl Organics to Protect
Oily This skin type occurs when the skin produces an excess amount of sebum, especially on the forehead, nose, and chin. Oily skin tends to look shinier and feel slick to the touch. Experiencing acne breakouts, blackheads, and larger pores is also common. Oily skin tends to be more prone to breakouts, so it's advised that people with this skin type look for non-comedogenic products, or products that do not clog and block pores. Lighter or oil-free moisturizers are ideal for oily skin as is water-based makeup. Pretty Well Beauty recommends: Black Rose Cleansing Gel by Leland Francis to cleanse Rosemary Grapefruit toner by Odiele to tone Clarifying Face Mask by Ilera Apothecary to treat On a Swing among trees by Earthwise beauty to hydrate Farizad's Veil Sun Reflector to protect
Editors note: Mix a tiny bit of the Farizad's Veil Sun Reflector with Swing Among Trees and apply to your skin
Dry Opposite of oily, dry skin is the result of the skin producing too little sebum. It can feel irritated and tight after washing and before moisturizing. This skin type is prone to cracking, itching, and flaking. Dry skin can appear duller and have more visible lines. When washing dry skin, make sure to use a gentle cleanser without harsh ingredients that will strip away the little sebum the skin has. Heavier moisturizers with humectants, such as hyaluronic acid, and richer oils will help bring in extra hydration and lock in moisture. Pretty Well Beauty recommends: Coconut Milk with oatmeal and jojoba by Palermo Body to cleanse White Geranium Toner by Odiele to hydrate and tone Hydration Boost Concentrate by Josh Rosebrook to treat Face Cream by Kahina Giving Beauty to moisturize
Combination Combination skin happens when certain parts of the face produce too much sebum and other parts produce too little. The oily areas are normally along the forehead, nose, and chin, or T-Zone. The cheeks and under eye area tend to lean on the dryer side. Combination skin oftentimes requires a mix of skincare methods. After gentle cleansing, the oily areas around the T-Zone may require a lighter moisturizer while the cheeks and under eyes require a richer form of moisturizer.
Pretty Well Beauty recommends: Face Wash by Earth tu face to cleanse Hydrating Accelerator by Josh Rosebrook to tone Face Moisturizer with Argan powder by Upcircle Beauty to moisturize Nutrient Day Cream by Josh Rosebrook to protect
Sensitive Sensitive skin isn't a skin type per se, but it does have a unique set of characteristics and skincare needs. Any of the above skin types can be sensitive, but the skin will be more reactive to specific ingredients, environments factors, etc. Sensitive skin, when irritated, can become red, blotchy, and itchy. When dealing with sensitive skin, avoid using harsh and potentially irritating ingredients. Search for fragrance-free, hypoallergenic, and fragrant essential oil-free products. It is also best to use mineral sunscreens with ingredients such as zinc oxide or titanium dioxide rather than chemical sunscreens. Sensitive skin can sometimes be related to skin conditions like rosacea, eczema, or an allergic reaction. If you are experiencing skin discomfort or pain of any kind, it is recommended that you seek attention from a medical professional. Pretty Well Beauty recommends: Facial cleanser + makeup remover extra sensitive by Honey Girl Organics to cleanse Moroccan Rose Water by Kahina Giving Beauty to tone Face and eye cream extra sensitive by Honey Girl organics to moisturize Protect by Honey Girl Organics to Protect 
How do I know?
There are a few ways you can determine your skin type at home. The first way to test your skin's sebum production level is to gently cleanse the skin and forego moisturizing for 30 minutes to one hour. Examine what your face looks like and how it feels. Check for feelings of tightness or irritation, that is a sign that you are experiencing dryness. If you see shine on each area of the face, that is a sign of excess oil production. Seeing only a bit of shine on only the forehead and nose means that you could have normal or combination skin. The second best way to see how much oil your skin produces is to use a blotting sheet. Much like the first method, you will gently clean the skin and wait for a period of time. You will then dab each area of your face and see how saturated the blotting sheet is after patting. The more transparent the blotting sheet is, the more oil was on the surface of your skin. By Taylor Maness