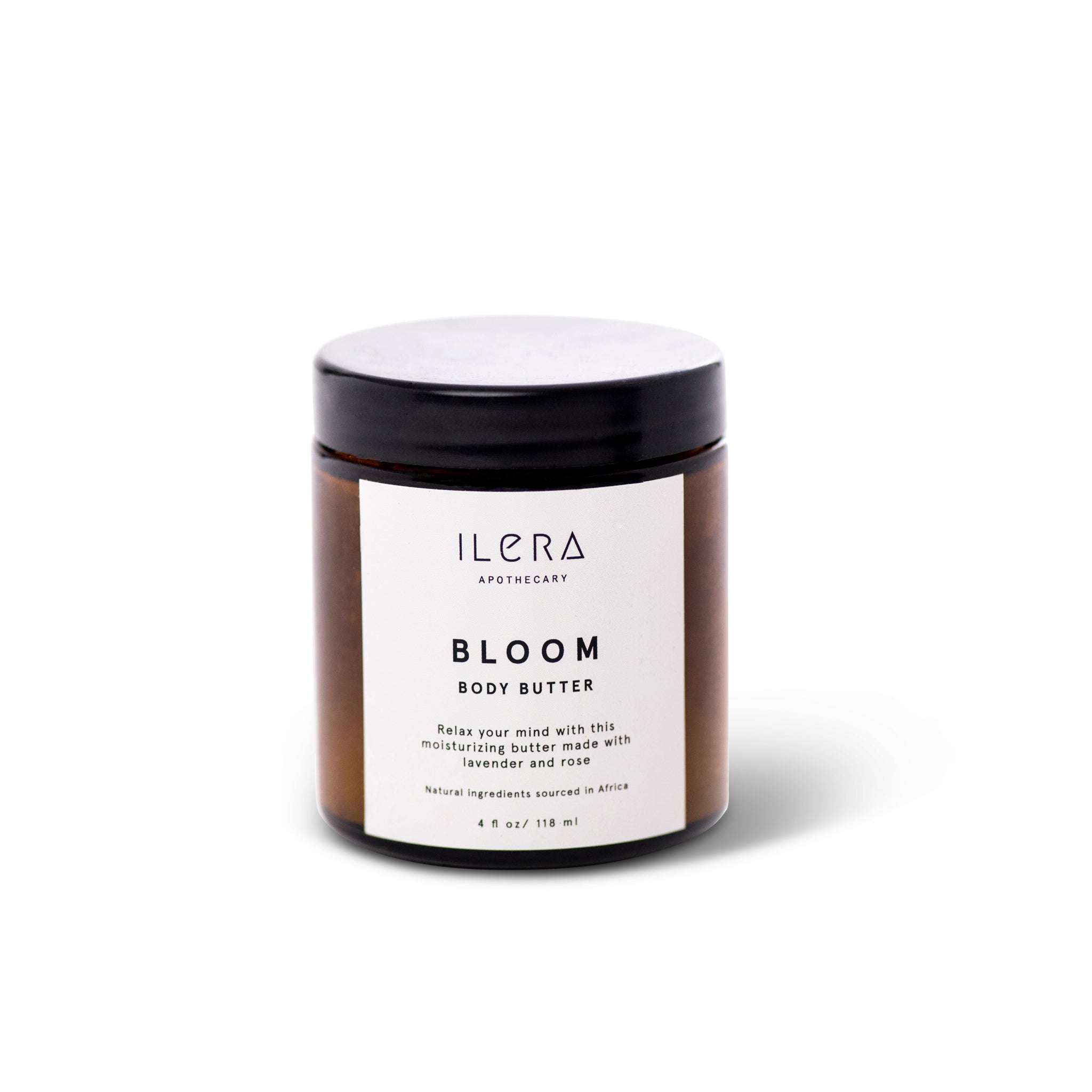 Bloom Body Butter
Delivering a luxurious experience that moisturizes the skin and relaxes the mood Inspired by the South Africa countryside,
Bloom Body Butter is 100% organic and provides your skin with the rich nutrients that make it smooth and soft for a glowing experience. 
Inspired by the South African countryside, Bloom features floral oils including Lavender, Rose, Jasmine, Musk and Ginger. This attractive scent combination is designed to relax your mind, transporting you to a place of peace and stillness.
This body butter goes a long way. It's thicker than a lotion, powerful enough to use on eczema and psoriasis, and gentle enough to use on babies. 
Massage into skin until completely absorbed
Apply to clean skin as needed
Best when used on damp skin after shower or bath
For maximum results, use with any of the moisturizing ILERA Apothecary body washes
 Multi-functional in use, the ILERA Apothecary Body Butter can be used: 
On the skin after a shower
As a relief for sun burn
On callused feet
On the hair to seal in moisture
As a lip conditioner
On dry hands and cuticles.
The ingredients that make a difference
Jazmin's Tips
"The scent of Jasmine and musk are calming and sensual to the senses and leaves my skin super soft."
Why Shop At PWB?
1. Product Safety
We will never carry a product formulated with any ingredient that has either been a known, or ever suspected, toxin to human health or the health of the environment.
2. Sustainable + Ethical
We ensure all labor used by our brands is fair trade and performed ethically in the sourcing of all ingredients and raw materials. We value brands that source as locally as possible, as well as from their natural habitats, for the best quality product.
3. Inclusive + Diverse
More than 50% of the brands offered at PWB are founded and led by BIPOC humans. We also believe in pricing diversity, so there is something for all budgets and lifestyles.
4. Product Performance
When all is said and done, we know even the highest quality products can fall short. Which is why we make sure every product we discover delivers on performance as well. Just because something feels nice isn't enough-it needs to work as well.