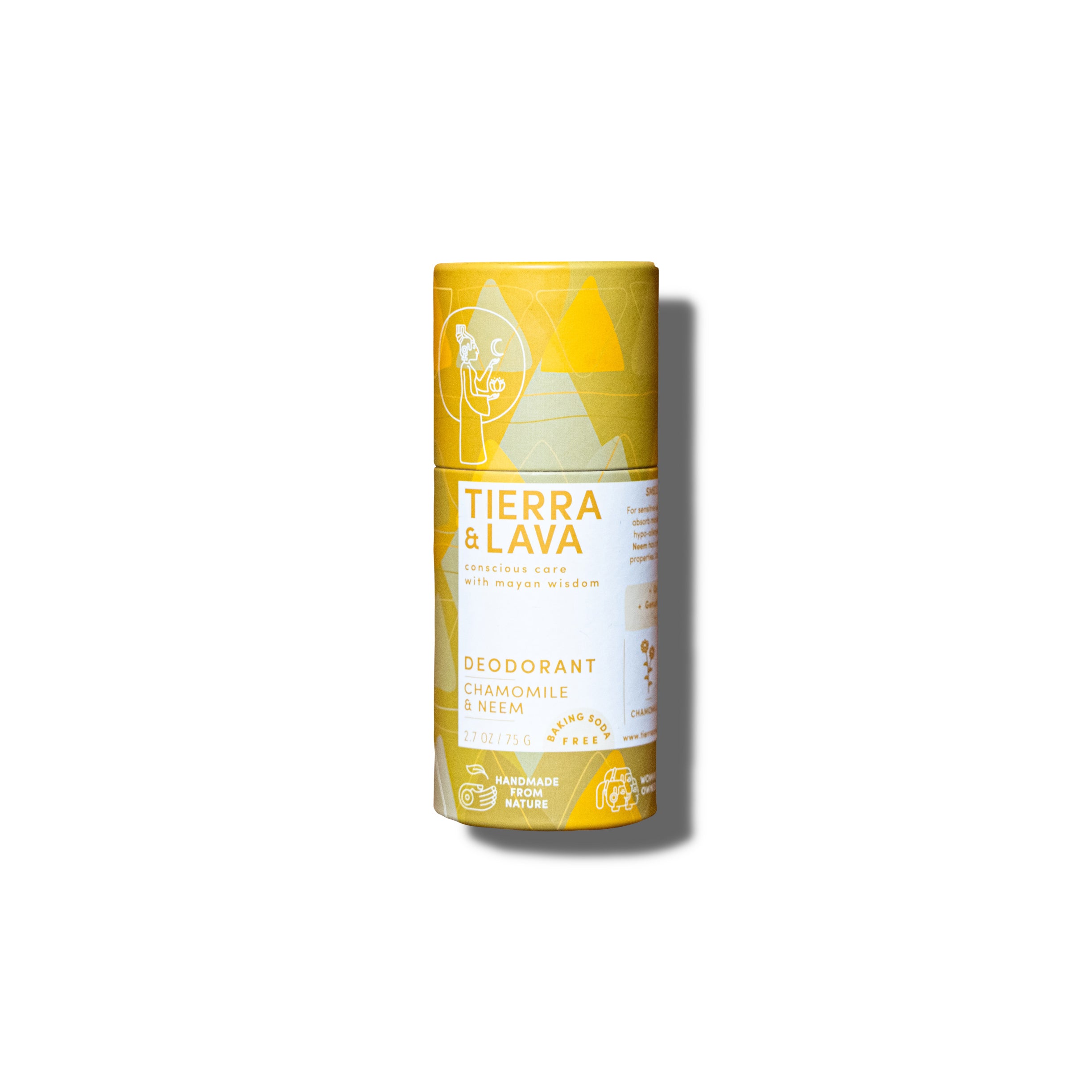 Tierra & Lava
Chamomile & Neem Deodorant
Perfect for those with more sensitive underarm skin
Chamomile & Neem Deodorant is an extra gentle skin-soothing deodorant that works to effectively control unwanted odor-causing bacteria. Perfect for those with more sensitive skin, it is baking soda-free, and dermatologist tested and approved. Includes an "Armpit Detox" that preps skin to maximize our deodorant's benefits.

HELPS ELIMINATE ODOR-CAUSING BACTERIA
Cornstarch and Arrowroot help absorb moisture/sweat. Neem and coconut oil possess anti-bacterial and anti-fungal properties that help eradicate the bacteria in armpits that cause unwanted odor. Not only does Chamomile & Neem Deodorant  help eliminate odor, but it also helps protect and moisturize skin.
KIND TO SENSITIVE SKIN
Harvested from our garden, we infuse fresh chamomile blossoms in coconut oil for over 6 weeks to extract the optimum essence. Chamomile acts as a soothing, hypo-allergenic and anti-inflammatory agent.
PROMOTES SKIN HEALTH
Cocoa butter and coconut oil, which are also locally and sustainably sourced, both protect and moisturize skin. Believe it or not, our armpits are home to 20 lymph nodes. We aren't here to give you a biology lesson, but our lymph nodes are a vitally important part of our immune system and serve to filter out toxins from our tissues. Our armpits deserve to be cared for in a way that reflects their fundamentally important role as a part of our body. Our natural ingredients help to nourish and protect our armpits and show them the love they deserve.
The ingredients that make a difference
How to use it
Morning & Night
Apply to clean underarms after the Detox Mask.
Lucy's Tip's
We live in a humid, tropical climate, so we understand the importance of a good deodorant. That is why we developed ours using key ingredients that have anti-bacterial and anti-fungal properties that get to the root cause of armpit odor/bacteria, without the cost of any harmful synthetic ingredients or chemicals that can break down your armpit skin's natural barrier and microbiome.
Complete your routine
Before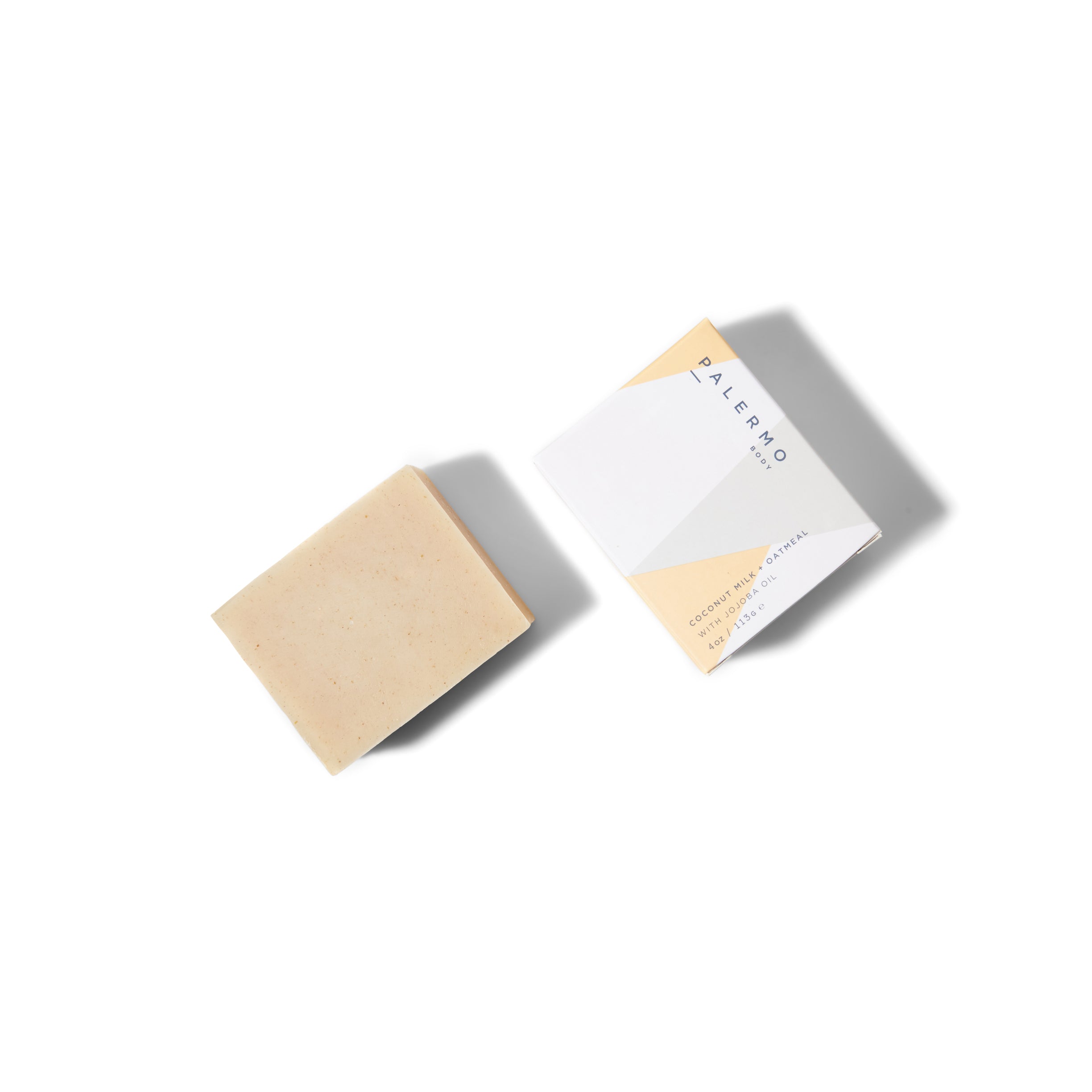 Palermo Body
Coconut Milk + Oatmeal With Jojoba Oil Soap
After
Earth tu Face
Coconut Body Butter
Jazmin's Tip's
"If you're new to natural deodorant, definitely use the detox mask the night before."
Why Shop At PWB?
1. Product Safety
We will never carry a product formulated with any ingredient that has either been a known, or ever suspected, toxin to human health or the health of the environment.
2. Sustainable + Ethical
We ensure all labor used by our brands is fair trade and performed ethically in the sourcing of all ingredients and raw materials. We value brands that source as locally as possible, as well as from their natural habitats, for the best quality product.
3. Inclusive + Diverse
More than 50% of the brands offered at PWB are founded and led by BIPOC humans. We also believe in pricing diversity, so there is something for all budgets and lifestyles.
4. Product Performance
When all is said and done, we know even the highest quality products can fall short. Which is why we make sure every product we discover delivers on performance as well. Just because something feels nice isn't enough-it needs to work as well.