Why You Should Try Cruelty Free Shampoo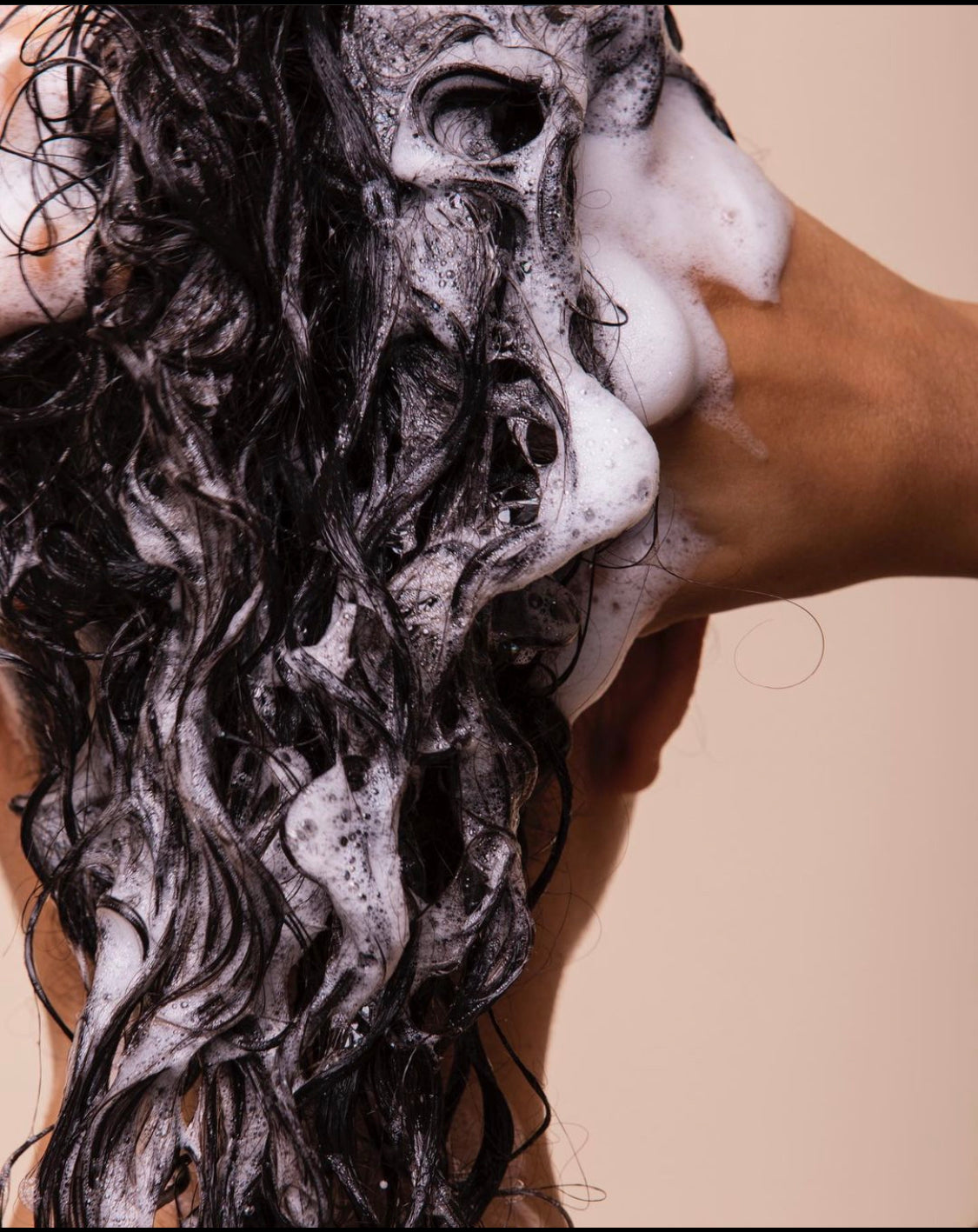 WHY YOU SHOULD TRY CRUELTY FREE SHAMPOO
Whether its label reads "no animal testing", "PETA Certified'', or "Leaping Bunny Approved", it is a sign to the world that the contents are "cruelty free". Over time, cruelty free practices have become an essential part of most beauty, hair care, and fashion production processes, just to name a few. But what makes something truly cruelty free, especially in the beauty industry? Read on to uncover its many definitions, why cruelty free practices have grown in popularity, and our recommendations for cruelty free shampoo!
(Note: This blog is not meant to slander any company or brand that happens to use practices or ingredients we do not allow in our product line. It is solely meant to educate on the history of cruelty free practices and further our mission to offer
 the most beautiful, conscious, and beyond clean brands
this industry has to offer available to our customers.)
Go into any grocery store, mall, or shopping center today (in person or online), and you're bound to breeze by several varieties of cosmetics, hair products, personal care items, and household cleaning products. And, after a closer examination of their labels, you'll discover an entire host of things: their ingredients, instructions, warnings, and many other important messages about how to use them safely. One kind of label you've probably come across more in recent years but know very little about is the cruelty free label. 
WHAT DOES CRUELTY FREE MEAN?
Generally, when we think of something being cruelty free nowadays, we're referring to that which is tested without killing, maiming, or using animal test subjects. This should encompass every stage of the product development process from beginning to end, including production, testing, selling, and the individual ingredients themselves. Cruelty free also means there are no animals killed to supply materials, or bred specifically for animal testing, no matter if the product being tested is a cosmetic, skincare, or shampoo and conditioner. 
WHAT IS CRUELTY FREE SHAMPOO?
Let's take a mental stroll down the hair care aisle, shall we? You're in the market for a new shampoo and happen to come across one with a tiny bunny on the label. What does it mean? 
Well, as we've already covered, a cruelty free shampoo would be one created without bringing harm of any kind to an animal of any kind at any point of its creation or distribution.
Additionally, in the eyes of the United States Food and Drug Administration, any label that simply reads "cruelty free" without any verification (i.e., a bunny certification logo) signifies that a product can be lumped in with others that only read "not tested on animals."
Basically, "not tested on animals" means the final product you purchase was not tested on animals.
FOR FINE TO MEDIUM HAIR TYPES
Innersense Organic Beauty
THE TROUBLE WITH CRUELTY FREE
So far, you might be thinking these guidelines must be followed strictly by every single company advertising cruelty free products. Well, unfortunately, that isn't the case. Just like what cruelty free means might be different from person to person, each company is also allowed to have its own personal opinion. 
Today, there are many skincare, hair care, and makeup brands that agree animal testing is unnecessary, especially considering the present advances in testing technology.
On the other hand, there are still those out there that do. For example, some brands still rely on past animal-tested safety data or outsource their animal testing so that they can still be considered cruelty free. Others use ingredients once tested on animals when they were introduced to the world market but are not anymore. There are also certain countries, such as mainland China, that still have mandatory animal testing protocols every beauty company must meet before their products can be sold there. Though the number of mandatory animal testing countries has decreased significantly since the term cruelty free was coined, this means big names found internationally, such as L'Oreal, MAC, and Proctor & Gamble, can do business in these countries and still be considered cruelty free elsewhere. 
TRUSTWORTHY THIRD-PARTY CERTIFICATION SYSTEMS
So which brands should we trust, and why are there so many different kinds of cruelty free labels out there?
Presently, there is no one official, government-sanctioned, cruelty free label.
According to the FDA, a standard, legal definition for the term "cruelty free" across all industries has not been chosen either. 
Together, this means brands are free to come up with their own, leaving the responsibility to conscientious consumers to figure it out with little to no know-how. As a result, switching to a cruelty free lifestyle can be quite a frustrating experience. The progression toward an entirely cruelty free beauty industry is slow, but there is hope. As of this year, the three most trustworthy third-party certification systems brands can apply for are the Leaping Bunny Certification via CCIC (short for the Coalition for Consumer Information on Cosmetics), the Leaping Bunny via Cruelty Free International, and PETA's Beauty Without Bunnies Program. 
LEAPING BUNNY CERTIFICATION (CCIC)
Though it can be challenging to understand what most manufacturers mean by their "cruelty-free" labels, the Coalition for Consumer Information on Cosmetics in the US and Canada's Leaping Bunny Program is the best resource to help concerned consumers find products that meet cruelty free standards. It was founded in 1996, and both versions of the Leaping Bunny Certification are considered the gold standard for ensuring animal safety. 
LEAPING BUNNY CERTIFICATION (Cruelty Free International)
Cruelty Free International is where the Leaping Bunny logo originated. The label is managed under the Cruelty-Free International Organization and is given to companies that do not test their products on animals. They are the two most common, well-known animal-free testing organizations and so have garnered the most trust from consumers. Beauty Without Cruelty (founded by Lady Muriel Dowding in 1959) is a member of CFI as all of its products adhere to its strict standards.
PETA's BEAUTY WITHOUT BUNNIES PROGRAM 
To this day, PETA is still one of the most recognizable third-party cruelty-free certifications. With over five thousand brands certified by the organization, PETA is the most global certification of the three.
So that just leaves the "not tested on animals" label. Where does that come from, and is it legitimate? According to the FDA, products labeled "cruelty free" or "not tested on animals" might seem like good choices at first glance, but that isn't always true. 
It all goes back to legal definitions: because what is cruelty free is not clearly defined by law, the "not tested on animals" sticker can be used to mean just about anything a manufacturer wants it to mean. Good thing this particular one from Choose Cruelty Free was merged with Cruelty Free International, so we can confidently say this version is legitimate.
CRUELTY FREE: THEN AND NOW
The most widely believed catalyst that compelled U.S. companies to start testing their products on animals was the signing of the U.S. Food, Drug & Cosmetic Act in 1938. Before the cruelty free movement began, the practice of using animals to test products ran rampant across the globe in just about every industry. Animals - mainly rats and mice - were subjected to a great deal of pain and distress during lab experiments, and most were killed after the experiments ended. There were no regulations to stop this violence and no such things as cruelty free policies or animal rights. 
Huge animal rights activists like Frances Power Cobbe (1822 – 1904), Lady Muriel Dowding (1908–1993), and fashion model Marcia Pearson pushed for anti-vivisection practices to be adopted in just about every industry across the globe, popularized the term "cruelty free", and developed their own foundations to help stop the exploitation, abuse, and suffering of all animals. 
FOR WAVY, CURLY, AND COILY HAIR TYPES
Several animal testing alternatives exist today and research is still being done to find more. Popular ones include cell cultures, human tissue, computer models, and human volunteers. Though there is still no fixed definition, cruelty free now means, depending on the industry, "a brand that does not perform any animal testing on finished products or ingredients at any point during the making of their products" (beauty and personal care), "a label for products or activities that do not harm or kill animals anywhere in the world" (animal rights), "a product that contains no animal byproducts and did not harm animals during garment production" (fashion), and much more. Various companies have developed a wide range of cruelty free products in response to the cruelty free movement, and now, a cruelty free label can be found on more skincare, shampoos, conditioners, foundations, makeup removers, deodorants, etc. than ever before.
OTHER IMPORTANT EVENTS 
To understand just how big an impact the cruelty free movement had, we had to go back in time a bit. There were many more notable events that took place, but we thought we'd share just a few with you here. 
1944: Six years after the signing of The U.S. Food, Drug & Cosmetic Act, the Draize irritancy tests were first developed. These tests required directly exposing animals' eyes and skin to chemicals and were considered the gold standard for assessing cosmetic safety for decades. 
1980: It wouldn't be until almost 40 years later that the first large beauty corporation would be challenged. Advocate Henry Spira waged a successful campaign to stop cosmetics company Revlon from using the Draize test. 
1996: Animal protection groups banded together to form the CCIC, the coalition that manages the Leaping Bunny cruelty-free certification program in the U.S. and Canada.
1998: The UK banned animal testing for cosmetic products and ingredients. Many other countries eventually followed suit. 
2000: The Interagency Coordinating Committee on the Validation of Alternative Methods (ICCVAM) Authorization Act was signed into law. It established a coordinated effort by U.S. agencies to evaluate and adopt test methods that reduce, refine, or replace the use of animals.
2000: That same year, California became the first U.S. state to pass a law requiring companies to use test methods validated by ICCVAM. New Jersey and New York also passed this law in 2007 and 2008, respectively.
2004: The Organization for Economic Cooperation and Development (OECD) approved non-animal test methods for skin absorption, skin corrosivity, and skin phototoxicity for the first time.
FOR COLORED OR CHEMICALLY TREATED HAIR TYPES
Innersense Organic Beauty
2009: The OECD approved non-animal test methods for eye irritation for the first time
2010: The OECD approved a non-animal test method for skin irritation for the first time
2014: In March of that year, the Humane Cosmetics Act, legislation that prohibits cosmetic animal testing and the sale of animal-tested cosmetics, was introduced in the U.S for the first time. 
2018: In September of that year, California passed a ban on the sale of animal-tested cosmetics.
2018: That October, Unilever announced its support for the #BeCrueltyFree campaign. Procter & Gamble, AVON, and Estée Lauder followed suit the next year. 
2020: In January, laws banning the sale of animal-tested cosmetics went into effect in California, Illinois, and Nevada.
2021: Virginia, Maryland, Maine, and Hawaii all passed bans on the sale of animal-tested cosmetics.
WHY YOU SHOULD TRY CRUELTY FREE SHAMPOO
But back to the purpose of this article: to tell you all about one cruelty free product that you should absolutely add to your wash day routine, cruelty free shampoo! 


FOR NORMAL TO DRY SCALP TYPES
Not necessarily. Though both remain unregulated, and dozens of offerings are advertised as both clean and cruelty free, that isn't always the case. 
Whether you're an animal advocate or just curious about using cruelty free shampoos, there are many great reasons to make the switch! 
For starters, cruelty free shampoo and conditioner are healthier options for your hair. This is because they often contain plant-based ingredients instead of harmful ones, like parabens, sulfates, or synthetic dyes. One popular example is aloe vera gel, a commonly used natural alternative to sodium lauryl sulfate. 
Not only are there fewer synthetic chemicals present in cruelty free shampoos, but truly cruelty free products, in general, help save the lives of animals everywhere. You'll look and feel great knowing that poor, innocent animals were not made to suffer to bring your shampoo to life. 
In addition, fewer chemicals mean less are released into the air, water, and soil. 
IS CRUELTY FREE SHAMPOO VEGAN?
Although hair products, personal care products, and skincare can be both vegan and cruelty free and they are similar, the two should not be confused.
For a shampoo to be considered vegan shampoo, it must be made without materials with animal origins, animal byproducts, or their traces. On the other hand, cruelty free refers to a product that does not test on animals. Vegan and cruelty free can't always happen simultaneously, so if you identify as vegan, you may want to be extra careful. 
FOR NORMAL TO OILY SCALP TYPES
Not necessarily. Though both remain unregulated, and dozens of offerings are advertised as both clean and cruelty free, that isn't always the case. 
IS CRUELTY FREE SHAMPOO CLEAN?
Not necessarily. Though both remain unregulated, and dozens of offerings are advertised as both clean and cruelty free, that isn't always the case.  
For a cruelty free shampoo to be considered clean, it also has to be free of potentially harmful ingredients that could be toxic in any quantity. This includes synthetic chemicals and ingredients that could harm your body, the environment, or irritate your skin.


FOR DAILY USE (ALL HAIR TYPES)
  Shampoo
OTHER MISCONCEPTIONS
With so much overlap between what makes a clean, vegan, or cruelty free shampoo, and so many labels to look at, shoppers are bound to get confused. Here are a few examples of cruelty free myths:

MYTH #1: If a shampoo label reads "cruelty free" or has a bunny on it, then it must not have been tested on animals

These identifiers may only mean that the finished product has not been tested on animals. They don't necessarily consider what occurred before one was ready for market. 

MYTH #2: The law requires personal care and cosmetic items to be animal tested.
This is 100 percent false! Neither the FDA nor the U.S. Consumer Product Safety Commission require animal testing for cosmetics or household products.

MYTH #3: If a product isn't tested on animals, it isn't safe to use. 
False! As stated before, there are several animal testing alternatives in existence that can render animal testing obsolete.
MYTH #4: It is difficult to find genuinely cruelty free shampoo.
Not anymore! Many of our brand partners are certified under one of the three trusted third-party certification systems, so you never have to worry. For example, last year, we added many new hair products to the site. Here are even more of our cruelty free shampoo recommendations! 
FOR IN-BETWEEN TIMES
Dry Shampoo (Brown Cacao or Blonde Kaolin Clay)
Not necessarily. Though both remain unregulated, and dozens of offerings are advertised as both clean and cruelty free, that isn't always the case.
CONCLUSION
More than ever before, consumers want to know everything about their purchases. It's no longer enough for a product to be effective, affordable, or greenwashed; people deserve to know whether or not what they're buying was used to harm living beings in the process who had no say about it. Animal testing is harmful to them and to us, and it has been proven that experiments in animals do not accurately predict what will happen in humans.
Now that better information and technology are available, it is possible for several countries and industries to test their products humanely and ethically not just for the sake of doing so, but for the protection and preservation of all. 
Labels and wording can get convoluted quickly. Remember: If the logo on the packaging is not the correct Leaping Bunny, PETA's, or from Choose Cruelty-Free, it is most likely a fake. If the packaging displays a "cruelty free" logo, but you can't find the company in one of the three organization's databases, it's also likely a fake. The most important thing you can do is your own research, so use your resources and pull this article out during your next shopping trip!