Meet Shaz Rajashekar + Kiku Chaudhuri, The Sisters Behind Shaz & Kiks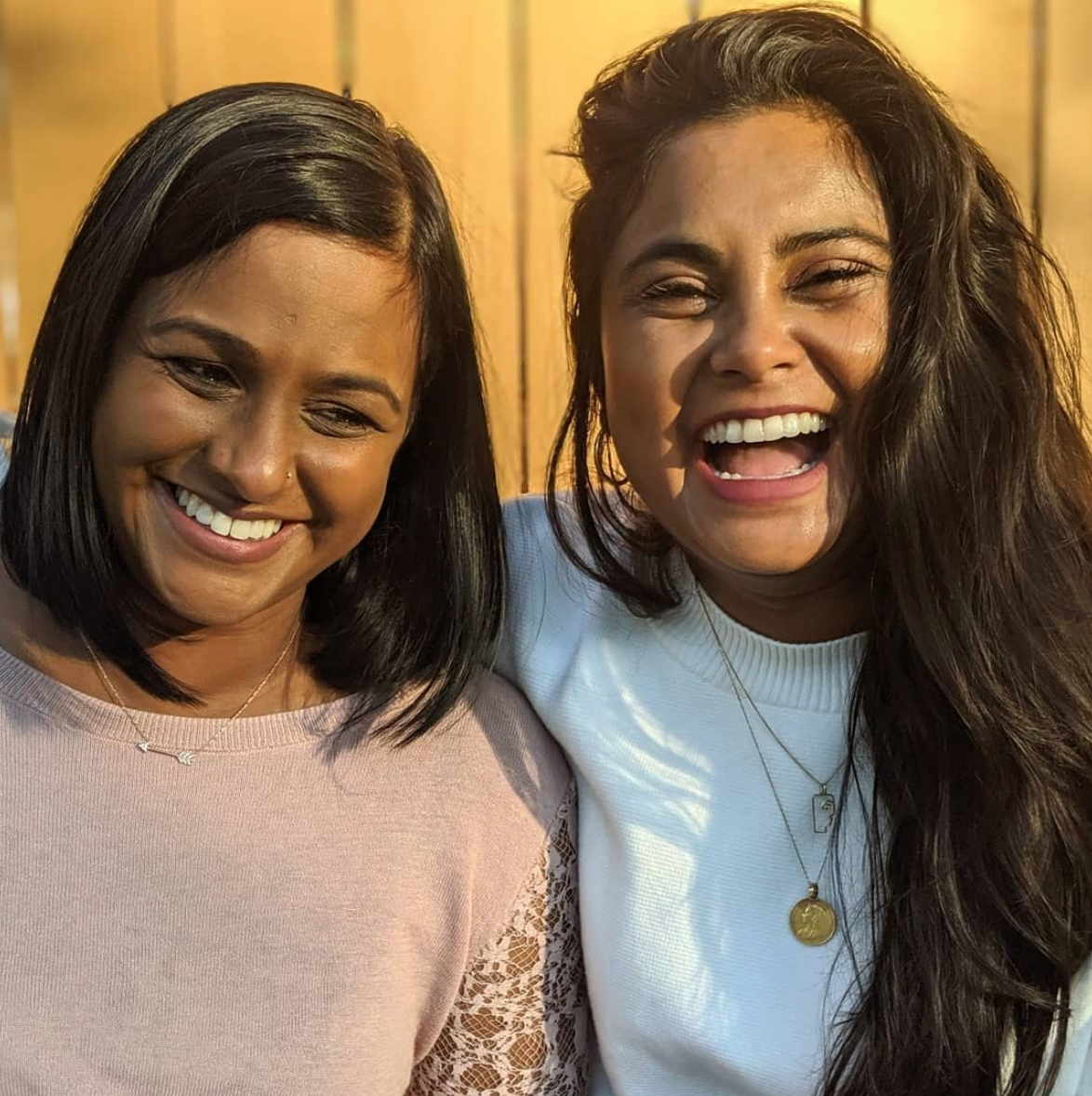 MEET SHAZ RAJASHEKAR AND KIKU CHAUDHURI, THE SISTERS BEHIND SHAZ & KIKS
All their lives,
Kiku and Shaz dreamt of building something together. Today, their joint hair wellness brand has won multiple awards and is a graduate of Sephora's 2022 Accelerate Program! Ahead, these two sisters share what it's like being co-founders, their incredible bond, culturally-rooted beauty, and much more.
When we think of clean beauty, skin care is likely the first kind to come to mind. Though it is centuries old, clean skin care has evolved the most in recent years in terms of innovation, popularity, and commitment to practice. In comparison to other categories, however, clean hair care has not garnered as much love or change. Many of us have used the same shampoo, conditioner, and styling products for most of our lives without thinking we might ever need to switch things up. That's where SHAZ & KIKS comes in - to set your hair free!
In September 2018, Shaz Rajashekar and Kiku Chaudhuri co-founded their namesake hair care brand in Austin, Texas. Prior to that, the two sisters spent some years apart to start their own families, but they always planned to do something together eventually. 
"We've always been very close," said Shaz. "We do have an incredible bond, so one of our dreams our entire lives was to be able to work together."
The decision to create clean hair care products, however, was situational and is very meaningful to their heritage. 
"Personally, I think it goes back to our cultural connection and how we learn to take care of our hair, our skin, [and] our bodies," she continued.
"In its purest form, we usually use D.I.Y. recipes [made] from plants, oils, herbs, and flowers... so we felt there was this really great white space to bring newness while connecting it back."
Even though they grew up in the United States, Shaz and Kiku spent every summer of their childhoods in their parent's hometown back in India. There, they were able to retain a deep connection with their relatives and their homeland's culture, even down to the way they were raised. This inspired them to take those experiences into account, no matter what it was they decided to do. 
"We wanted to give a little bit of that flavor just like if you were to go to an Indian restaurant," Shaz explained. "The same way you're kind of experiencing India through food is what we wanted to apply to the experience of what hair care means in Indian culture."
Hair care is one of the most important Indian care rituals, especially for a woman's identity. For example, beauty rituals are regarded as a bonding experience in any given family and are passed between women from generation to generation. Some of Shaz and Kiku's fondest memories include watching their grandmother use old Indian Ayurveda practices (the ancient Hindu art of medicine and of prolonging life) to cook up her own beauty concoctions with natural ingredients from her kitchen and garden. And all these years later, Kiku remains inspired by her, her mother, and her sister Shaz. 
"All of the wonderful women in our family continue to be the people who've really shaped me," she revealed. "Our grandmother very much encouraged us to break away from the norms and restraints she grew up with culturally, so…I'm always trying to make space for myself as a woman."
As for Shaz, her motivation also comes from watching other female entrepreneurs of color succeed. 
"Seeing some of these women who are a few steps ahead of us or a lot ahead of us gives us tons of inspiration."
After a period of time testing brand names and formulas, the stars would finally align, and, in 2020, Shaz and Kiku's launched their dream collaboration. PWB also became Shaz & Kik's first retail partner. The name of the brand speaks to how personal the journey was for the both of them. 
"The type of company we wanted to build all the time and we continue to build is such an extension of who we are,"
said Kiku.
"It feels like it's a part of our family, a part of our roots, so we eventually landed on the fun names that our loved ones call us."
Shaz and Kiku's personal hair journeys couldn't be more different. While Kiku embraced their grandmother's handmade hair care formulas more early on, Shaz was a bit more picky and disliked the traditional hair care experience. As the two grew older, trips to India became less frequent, leaving Kiku wanting to experiment more by heat styling her wavy, voluminous curls. Shaz on the other hand took a break from caring for her long, straight, and thinner hair until her late twenties, when she gave birth to her two children a year and a half apart. 
"I think that really took a toll on my body and what I thought was my perfect hair that would never go away," she recalled. "I had a lot of hair loss during postpartum and it was really hard for me to get back. It was only after that, in my mid-thirties, that I went back to my roots."
Kiku added, "In my late twenties, I do remember looking in the mirror and being like 'Wow, my hair has really turned into something different'. I'd tried to manipulate it and make it something that it really wasn't and, later, it really hit me that I missed its uniqueness."
Despite their time apart, both Shaz and Kiku were inspired to return to their roots just before their thirties. Going about life separately helped them embrace their culture even more and realize just how important it is to stay true to oneself. Today, neither of them heat style on a regular basis and they often visit their parents in Houston, where their mom shares new hair products from India with them. This gave them the idea to use Indian ingredients that aren't found as often in the U.S. for their own product line. 
"I think what makes us really stand out is this combination of taking ancient rituals, but then also trying to really be innovative in the way of the experience," Shaz shared.
"What we really want to do is make sure that all of our products take from the D.I.Y. of what we were taught and reimagine that in terms of this very sensorial experience."
Since launching two years ago, the goal of Shaz and Kiks has been to take the Ayurvedic lifestyle they acquired during their summers in the Himalayan foothills and reimagine it for the modern woman. Their hope is that each of their customers get to celebrate the beauty of Indian culture using all five senses. The Back To Your Roots Scalp & Prewash (normal and curly), for example, takes from the popular, age-old practice of hair oiling prior to washing the hair and turns it into something easier for everyone.

"We found it can be challenging to use an oil-based product in the routine sometimes," Kiku explained. "It's hard to massage it in, it can be a bit messy, and it's hard to wash out…so we took an ancient oil recipe and created a creamy hair mask with two different formulas so that we make sure all different types of hair textures and scalp types can benefit."
As for the scientific reason behind oiling dry hair before getting into the shower, Shaz added, "Because of the porosity of your hair it can get very waterlogged and create weakness, so oiling dry hair creates a kind of raincoat around your strands to prevent damage from the water or the environment."
Earlier this month, the limited edition mini versions of Back To Your Roots were added to our site. Just like the original, inaugural product, these gift sets are supercharged vitamin masks infused with 20 plus Ayurvedic herbs, oils, and flowers to encourage healthy hair and scalp, and are just as easy to apply. 
"Once you massage it into your hair, it soaks in and clings on, so it doesn't really look like you have anything in your hair," Kiku shared.
"You can keep it in for 15 to 20 minutes before your wash routine, or you can go about your day…and then jump in the shower later. Whatever you like."
Speaking of multi-tasking products, Kiku and Shaz are both fans of using as few a day as possible. Some of Kiku's go-to's are the Leland Francis Body Serum and Henné Organics' Luxury Lip Balm V2. As for their own, Kiku's favorite is the scalp and hair pre-wash. 
"My hair can go from super wavy to straight and wavy depending on the climate, so I actually love using both," she said. "In the hot summer months, I like to use the one that's for fine, thin to medium hair to absorb oil, and, during the drier winter months or after a vacation, the other formula for thick, curly hair is a bit more conditioning."
Shaz's favorite is their second product, the Balancing Clay Hair Cleanser.
"It's sort of our version of a shampoo that's really unique," Shaz described. "It is 100 percent waterless, made from Multani mitti (Fuller's earth) clay that's really great for absorbing oil, the Indian blueberry or Jamun that gives it this amazing, purple-ish color…and is just an overall very gentle cleanser and exfoliator for your scalp."
From 2020 until now, we've thoroughly enjoyed being a part of Shaz & Kik's entire journey. For its founders, the greatest part continues to be running a business where they can not only spend time together, but give homage to ingredients like turmeric and beauty practices Indians have held dear for thousands of years as well. 
Still their most beloved product, the Back To Your Roots Scalp & Hair Prewash's most recent achievements to date include the Best Haircare Product Launch at the 2021 Beacon Beauty Awards and the Best Pre-Poo Treatment at the 2022 Cosmopolitan Holy Grail Beauty Awards. If you're looking for an intensive pre-wash treatment and you fall under hair types 1 or 2, we recommend starting your wash day with the normal version of Back To Your Roots. If your hair type is between types 3 and 4, then the curly version is perfect for you.
As for the brand as a whole, Shaz & Kiks is a recent graduate of Sephora's six month Accelerate Program! 
"It's been an incredible opportunity to be a part of a program like this and to be a part of the Sephora family," Kiku imparted happily. "Our main focus right now is working through launching at Sephora and then really creating another wonderful partnership with them and all the opportunities that come with that."