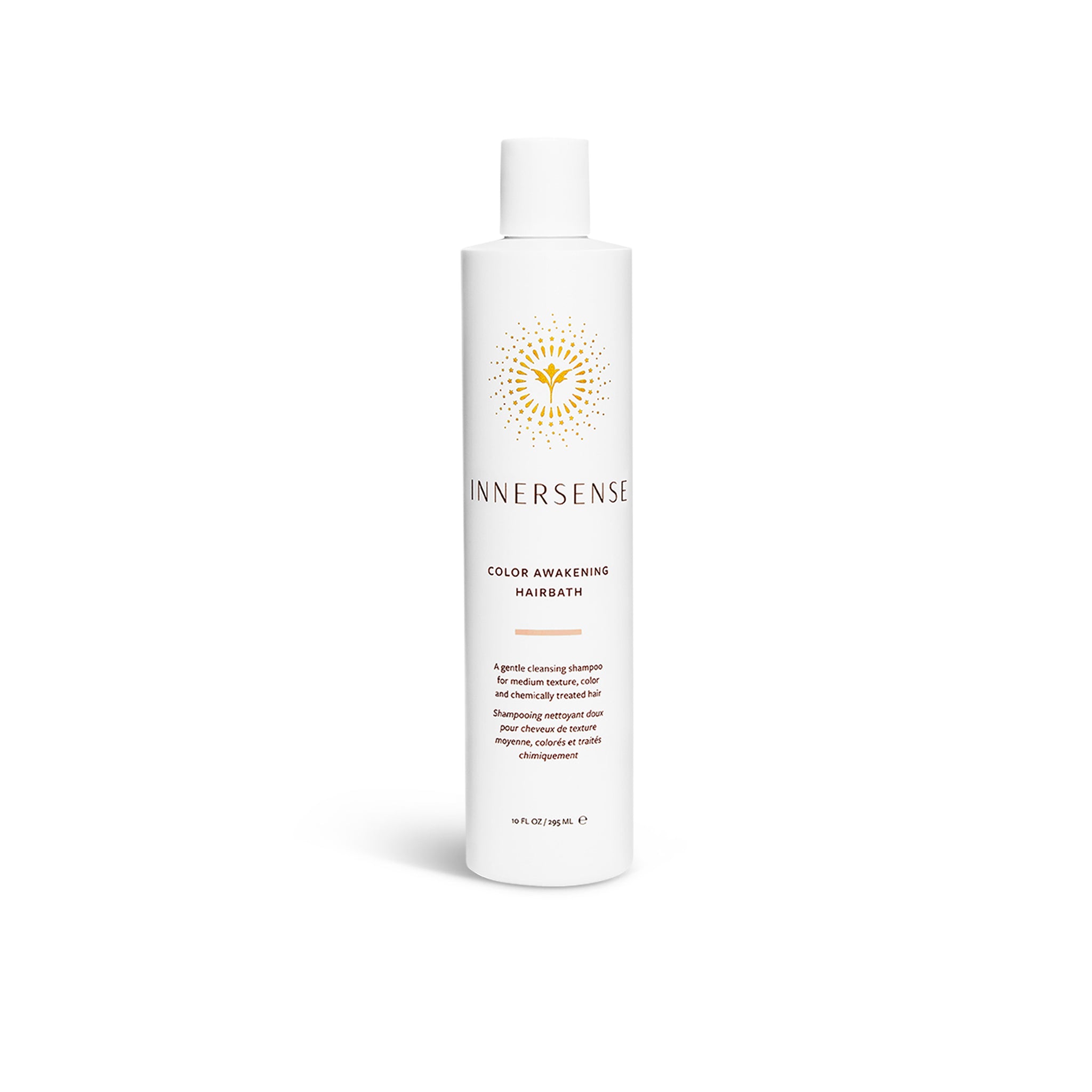 Innersense Organic Beauty
Color Awakening Hairbath
A gentle cleansing shampoo for medium texture, color and chemically treated hair
Color Awakening Hairbath is a gentle cleansing shampoo for medium texture, color, and chemically treated hair.
Revitalize medium texture with this color safe and gentle cleansing shampoo. Crafted with raw coconut and Shea Butter to nourish texture and honey to lock in moisture and deliver luster. Pumpkin seed oil preserves color and vibrancy.
Best for medium texture, color, and chemically treated hair
Fragrance note: Orange, tangerine
Coconut and Rice Bran — a gentle (and softening) formula derived from coconut, rice bran, and avocado oils delivers a very gentle sulfate-free cleansing. Pumpkin Seed Oil — a perfect ingredient for hair, provides a harmonizing and uplifting top note. It creates a therapeutic experience, increasing circulation and releasing tension and anxiety. Shea Butter — Certified Organic, Shea Butter is an excellent emollient for personal care applications. Its rich content of bio-active triterpene esters provides beneficial effects including anti-irritancy, anti-inflammatory and enhanced UV-B protection.
GLUTEN FREE | CRUELTY FREE | PACKAGING - RECYCLABLE | PACKAGING - RECYCLED CONTENT
The ingredients that make a difference
Jazmin's Tips
"Color treated hair needs extra moisture so this is the perfect gentle cleanse that's also hydrating."
Why Shop At PWB?
1. Product Safety
We will never carry a product formulated with any ingredient that has either been a known, or ever suspected, toxin to human health or the health of the environment.
2. Sustainable + Ethical
We ensure all labor used by our brands is fair trade and performed ethically in the sourcing of all ingredients and raw materials. We value brands that source as locally as possible, as well as from their natural habitats, for the best quality product.
3. Inclusive + Diverse
More than 50% of the brands offered at PWB are founded and led by BIPOC humans. We also believe in pricing diversity, so there is something for all budgets and lifestyles.
4. Product Performance
When all is said and done, we know even the highest quality products can fall short. Which is why we make sure every product we discover delivers on performance as well. Just because something feels nice isn't enough-it needs to work as well.