skincare
Moisturizer Madness! Cream, balm or oil?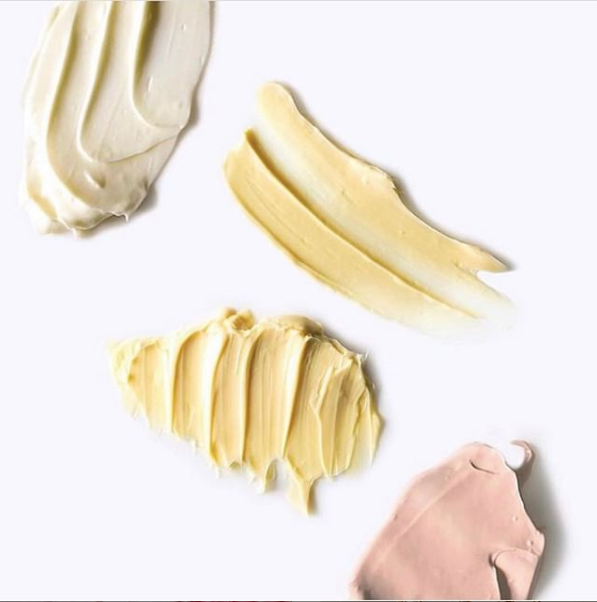 Moisturizer Madness! Cream, balm or oil?
Let's be real: Skincare can be complicated. We're tasked with identifying our skin type, finding the most beneficial products for our skin, AND then applying these products in the correct order. We've all been there, and quite frankly, are still figuring it out. Is there a beauty manual for all of this? (* hint, you just found it, scroll down)
On top of cleansing, exfoliating, and toning, moisturizing can feel like another chore. So, why do it? When skin is dry and irritated,
breakouts and acne
are more likely to pop up and wreak havoc on skin. That's where moisturizing comes in. This important step in our skincare routine helps balance skin while maintaining its healthy cells. Proper moisturization is also crucial in protecting skin from the damaging effects of the elements, sun exposure, and pollution.
Quick Benefits
Fights wrinkles

Reduces the chances of skin problems

Minimizes the appearance of blemishes

Helps retain skin's youthfulness and vibrance
3 Ways To Keep Skin Hydrated
Creams, balms and oils. On paper, all three seem to do the same thing: Adding moisture while nourishing skin. If you've ever wondered how they differ, you're not alone. Each offers different benefits and experiences tailored to your specific skin type.
MOISTURIZING CREAMS
Did you know there's a difference between creams and lotions? It's all in the consistency. Typically a combination of oil and water-based ingredients, creams are formulated to hydrate and protect the skin. Like a cap, they seal in previous skincare steps while creating a barrier against environmental elements, and help reduce the appearance of fine lines and wrinkles.
Recommendations:
Face Cream by Kahina Giving Beauty
—
A blend of nature's two most potent anti-aging ingredients: Argan oil and red wine grapes. Addresses all signs of aging including improving tone and texture, soothing irritation, and decreasing redness.
Pro tip:
Creams can be applied to damp or dry skin. Layer on top of a facial oil or mix a few drops of the oil into the moisturizing cream before applying for maximum benefits.
The Rich Cream by Leland Francis
—A silky blend of rich oils and vitamins that deeply nourish and soothe skin to promote a long, healthy glow (without the shine). Known for its versatility as a priming moisturizer, night cream, or luxury plumping ritual.
Pro tip:
Layer the cream on top of a serum and finish off with a face oil for extra hydration.
MOISTURIZING BALMS
Say hello to cream's thicker bestie. Balms are solidified oils that liquify when they come in contact with our warm skin. Unlike creams, moisturizing balms don't contain water. But they provide a nourishing protective layer to our skin, sealing in skincare, as creams do. Calling everyone with
dry skin
! Balms are especially beneficial for you.
Recommendations:
Tigress Face Balm by Earthwise Beauty
—
The first facial balm created for acne-prone skin. This vegan balm is soft, lightweight, and melts instantly to invigorate the skin tissue, heal acne breakouts, reduce acne and blackhead tendencies, balance excessive oil production, and firm skin in the long run.
Pro tip:
Apply just a thin layer due to the balm's fine and loose texture.
Vital Balm Cream by Josh Rosebrook
—A powerful multi-benefit moisturizer that supports true skin health and beauty by facilitating maximum cellular hydration, repair, and restoring vital skin function. Formulated for normal to dry, dehydrated, and sensitive skin.
Pro tip:
Balms
absorb best when applied to damp skin.
FACIAL OILS
These oils mimic the outer layer of our skin (
the
stratum corneum). The key? Softening and sealing to prevent water loss. We love facial oils for their essential fatty acids, vitamins, and antioxidants. Have combination/oily skin? Facial oils are great because of their ability to mimic skin's natural sebum production, which will in turn help balance your oil production.
Recommendations:
Luxe Face Oil by Leland Francis
—
A blend of sixteen natural oils that helps improve skin's luminosity while minimizing fine lines and wrinkles for a radiant complexion.
Pro tip:
Gently press 3-5 drops onto a clean face morning and night.
Ruby Face Oil by Earthwise Beauty
—A fruity and antioxidant blend that packs a powerfully hydrating punch. Appropriate for all skin types, from acne-prone and oily, to dry, sensitive, and sun-damaged skin.
Pro tip:
Use a generous amount of Ruby Face Oil and your skin will never feel oily, just more hydrated.
Skincare 101: How To Moisturize
We've put together a few FAQs to help.
Q:
When should I apply my moisturizer?
A: First and foremost, always apply to clean skin. Moisturizing should be the last step in your skincare routine before applying makeup.
Here's a rule of thumb:
Use Moisturizer twice daily—morning and night—to renew skin.

Moisturize before priming for an even primer application.

Always moisturize after applying serum.
*wait five minutes to allow the serum to fully absorb into skin*
Q:
How do I properly moisturize?
A: Pat into skin, NEVER rub! Aggressively rubbing skin can be damaging. When applying moisturizer, simply pat the product into skin to help distribute product evenly without damaging skin cells. Here's an anti-aging secret: Work against gravity to reduce sagging skin by applying the product in upward strokes.
Q:
How often should I apply moisturizer?
A: Moisturizer isn't going to improve your skin texture and complexion if you only apply it every once in a while. Hate to break it to you, but moisturizing is a daily task. Before you start your day and at night before you go to sleep, apply your favorite moisturizing product to get the hydrated, healthy-looking skin you've always dreamt of.
Q:
Moisturizer and sunscreen. Which comes first?
A: After cleansing, exfoliating, and perhaps toning your face, moisturizer and SPF are up next. According to
Seknd
, it's recommended to
use a moisturizer first prior to
applying sunscreen
for the day. This way, you can properly protect your skin from the sun's rays with sunscreen, without compromising or diluting its efficacy. Looking to save time in your skincare routine with a SPF moisturizer combo? Using a moisturizer with SPF offers some protection. And some is certainly better than none. Remember to conclude your skincare routine with this moisturizer duo!
Q:
What happens if I don't moisturize?
A: Our skin's health depends on it being clean and retaining moisture. Failing to moisturize can result in splotchy skin complexion. There are also so many external conditions that contribute to the drying of our skin—hot water, dry air, cold climate. Applying facial moisturizer on your skin after you get out of the shower helps to lock in moisture. And let's talk about pesky fine lines and wrinkles in old age. These are consequences of not moisturizing properly in your youth. According to ReviewThis, when we age, our sebum glands lose their efficiency which causes an overproduction of oil. By using moisturizers at a younger age, you're minimizing your chance of aging signs as you get older. See the bigger picture now? Moisturizing is far from an optional step. Think of it this way—a simple step in your regime that doesn't need to be washed off, but instead is absorbed into your skin. Keeping skin cells nice and hydrated will help prevent breakouts and wrinkles, ensuring gorgeous skin for a lifetime. No matter your skin type or concerns, there is a clean and sustainably-sourced moisturizer (or combo of moisturizers) for you. Looking to give your body a little extra love? Check out these 7 must-have body oils to keep your skin from cracking here.
XoXo, Juzanne Martin PWB Marketing Intern & Content Writer
A versatile writer, Juzanne covers beauty, lifestyle, entertainment and fashion news—delivering timely pieces that inform, entertain, mirror current trends and spark social conversations.