skincare
Signs of Combination Skin + Savvy Solutions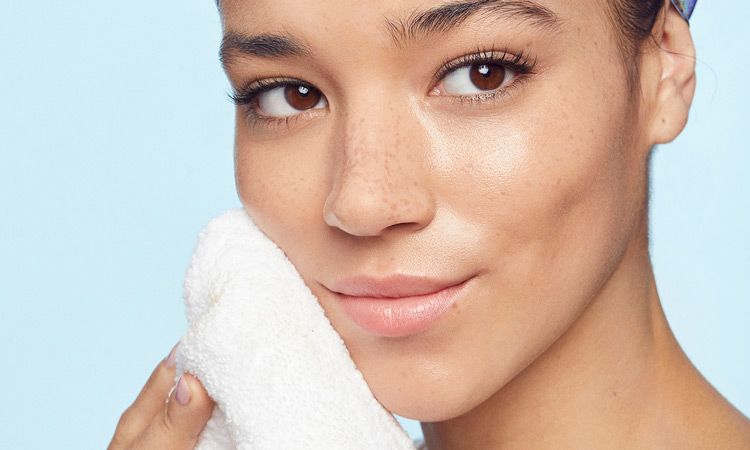 Signs of Combination Skin + Savvy Solutions
Skin. Our beautiful outside layer that helps protect all the goodness inside. As much time as we dedicate to our careers, education, clean eating habits, children, and so much more—our skincare should be prioritized too. So, how do we give the largest organ of the body a little extra TLC? It begins with educating ourselves. First things first, there are five basic skin types—normal, oily, dry, combination and
sensitive
. And all five need to be cared for in different ways. Guess it's time you
update your beauty cabinet
! Every skin type reacts differently to product ingredients, which is why knowing your unique skin type is
essential
to achieving the best skincare results. We're just going to focus on combination skin for now, diving deeper into the signs and checking out some of our
clean beauty
best sellers
that can help.
What is Combination Skin?
Dry skin? Keep hydrated and moisturize regularly. Oily skin? Use cleanser and toner twice daily. It's pretty straightforward considering the vast amount of products dedicated to treating these common skin types. But things start to get a bit complicated when you've got a little of both. What happens when hydrating creme/gel moisturizers are too hydrating and oil control toners are too absorbing? You just want your skin to pick a side. Is that too much to ask?
Here are the facts:
Combination skin is characterized by being normal to dry in some areas, and oily in others, with the T-zone area (nose, forehead, and chin) being the most common according to
WebMD
. Combination skin is often identified by...
Blackheads
Sensitive cheeks
Shiny skin appearance
Larger than normal pores
Common breakouts on the forehead, chin and nose
Breakouts and dry patches happening at the same time
3. Genetics, over-cleansing, harsh scrubs/brushes, clogged pores and overactive sebaceous glands (glands that produce sebum—oily matter that lubricates skin and hair) are all leading causes of combination skin. If this sounds familiar, chances are you could have combination skin. The struggle is real in your T-zone area when it comes to excess oils, while other areas of your face tend to be dry and dull, especially your cheeks and skin around your eyes, thanks to a buildup of dead skin cells.
How To Care For Combination Skin
It can be tricky to figure out how to properly care for your skin when different areas have different needs. The good news is, we've put together a simple guide to a healthy and vibrant complexion.
Gentle Facial Cleansers Are A Must
Say bye-bye to harsh products that clog pores. Wash away dirt, excess oils and impurities twice a day—morning and night— with a gentle facial cleanser. The key? Choosing a cleanser that helps mattify your oily T-zone. 2. Don't Forget To Exfoliate Most times, a dull complexion is a result of dead skin cell buildup on the skin's surface. It's normally recommended to exfoliate once or twice a week. Over-exfoliating is most definitely a thing, so start off slow to gauge how much your skin can handle. You don't want to strip away healthy skin cells and oils that our skin produces naturally.
Pro tip: Gently scrub to decrease the risk of excess damage to the skin.
3. Oil-Free is Your BFF This goes for sunscreen, moisturizer and makeup. Incorporating oil-free products into your beauty routine will help keep pores clog-free and limit any additional oil to your slick T-zone area. 4. Avoid Excessive Fragrance The dry, flaky areas of combination skin are more sensitive and may be easily irritated by products with
chemical fragrance
ingredients. Natural
ingredients
are the way to go to avoid the (rather unnecessary) introduction of chemical irritants to your skin that could worsen breakouts.
Our Combination Skin Kit
In Conclusion
We're here to help you love (and care for) the skin that you're in. More often than not, our skin's destiny rests in what we've inherited from our parents, but our very own skincare products and regimens can also be the root of the problem. Balancing two different skin types may be a challenge, but it's not impossible. With knowledge, a routine and clean, sustainably-sourced products, balance can be oh so beautiful.
XoXo, Juzanne Martin PWB Marketing Intern & Content Writer
A versatile writer, Juzanne covers beauty, lifestyle, entertainment and fashion news—delivering timely pieces that inform, entertain, mirror current trends and spark social conversations.