Category_Skincare
Your Definitive Guide of Summer Skincare Routines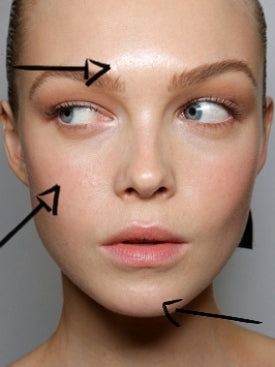 Your Definitive Guide of Summer Skincare Routines starts right here.
People often ask me what I use for my skin. I'm always happy to divulge and share my favorites but I always tell people that what works for me may not necessarily work for everyone because we all have different skin types that come with different requirements.
Also, skincare routines alter slightly due to the season and change of temperatures as well, so I wanted to create a cheat sheet on products and a routine for every skin type based on personal experience as well as first-hand knowledge about the ingredients in specific products that have benefits for each skin type. Below please find your definitive guide of summer skincare routines below for every skin type.
Oily Skin: People with oily skin are blessed with a double-edged sword. On one hand, the excess production of sebum slows the aging process and keeps you looking youthful but on the other end, you constantly feel like an oil slick and during the warmer seasons, it becomes even more difficult to manage for many. The key to caring for oily skin is balance. Below is a tried and true regimen for those struggling with oily skin who seek to minimize the constant need to blot. PS using oils is key to balancing oily skin 
Cleanse: Cleanse morning + evening with Detoxifying Deep Clay Cleanser by ILERA Apothecary or Leland Francis Black Rose Cleansing Gel
Tone: Odiele Rosemary + Grapefruit Toner
Exfoliate: Recommend 2x per week Josh Rosebrook Active Enzyme Exfoliator
Hydrate: Luxe Lotion by Leland Francis
Treat: Recommend 1-2X per week. Malaya Organics Advanced Repair Mask or Earth tu Face Honey + Coconut mask
Dry Skin: People with dry skin oftentimes feel like no matter what they do, their skin is always thirsty and feel an impulse to slather on heavy creams to battle. Dry skin tends to age a bit faster than other skin types due to the lower levels of natural oil production. The key to hydrating dry skin is exfoliation and layering moisture. Here is one of our favorite routines for dry skin
Cleanse: Evenings (morning's optional) EarthWise Beauty Marshmallow Face Cleanser or Mun Akwi Purifying Cleanser
Tone: Josh Rosebrook Hydrating Accelerator or use White Geranium Toner as a cleanse/refresher
Exfoliate: 1X per week with Coffee Face scrub-citrus blend by Upcircle beauty 
Hydrate: Earthwise Beauty Ferns and Moss Face Serum and Kahina Giving Beauty Face Cream
Treat: 2X per week Josh Rosebrook Advanced Hydration Mask
Combination Skin: Combination skin is one of the most common skin types. Dry/normal on the cheeks, and oily in the T-zone. Some people treat the 2 areas of their face with different products which isn't necessary. The key here is balancing the amount of product used in each area which will keep your complexion much more uniform
Cleanse: Morning + Evening; Earth tu Face Face Wash
Tone: Facial Toner by Honey Girl Organics 
Exfoliate: 1-2x per week with Instant Glow by Flower & Spice
Hydrate: Protect + Revive by MUN 
Treat:1-2x per week Dr. Alkaitis Organic Universal Mask
Sensitive Skin: People with sensitive skin can also veer on the dry side as well as the oily side. Skin sensitivity can come from a variety of external factors as well as genetics. The key for people with sensitive skin types is a combination of the products used as well as how they are applied in order to avoid reactions
Cleanse: Morning + Evening Coconut milk + Jojoba soap by Palermo Body 
Tone: Earthwise Beauty Cistus and Moonlight Face Mist
Exfoliate: 1x per week; Malaya Organics Herbal Facial Polish
Hydrate: Earthwise Beauty Nap in the Meadow Face Serum and Dr. Alkaitis Organic Soothing Gel
Treat: 1x per week with  Antioxidant Mask by Kahina Giving Beauty 
Mature Skin: Mature skin refers to skin that is 40+. Typically the body and the skin change slightly every 10 years but once most people reach 40, there is a dramatic reduction in natural collagen production which can sometimes make the skin look older than it actually is. Here are some products designed with more mature skin types in mind that can help increase cell turnover which slows down as we live longer.
Cleanse: Evenings (morning's optional) Cleansing Balm by Upcircle Beauty or Josh Rosebrook Herbal Infusion Oil
Tone: Odiele White Geranium Toner
Exfoliate: 1-2x per week Josh Rosebrook Active Enzyme Exfoliator
Hydrate: Earthwise Beauty Black locust Firming Concentrate and Josh Rosebook Vital Balm Cream
Treat: 1-2x per week. Dr. Alkaitis Organic Flower Mask
Normal Skin: What does this even mean and who are you, people? Seriously, I feel like people with "normal" skin are basically unicorns. You're the kind of people who can get away with just splashing water on your face morning and night and your skin never reacts to anything. I'd like to take a poll and see how many people identify with having normal skin. Shoot us an email whoever you are at hello@prettywellbeauty.com and tell us what you use!
xoxo PWB