skincare
Skin Care Routine for the Expectant Mom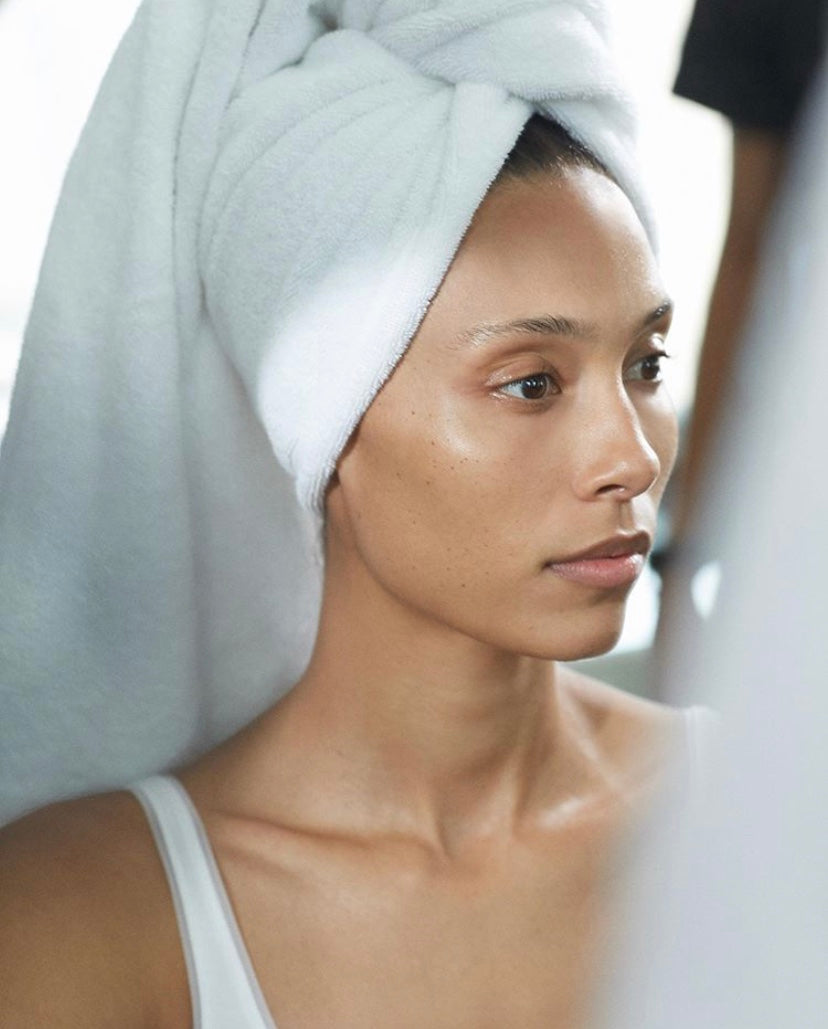 Skin Care Routine for the Expectant
Mom Pregnancy is a magical time when you want to feel amazing 24/7 but the reality is that hormonal changes can cause an expectant mama to feel less than the goddess she is. Due to shifts in hormones, the skin can oftentimes take a drastic hit in the form of acne, hyperpigmentation + melasma and inflammation.
Contrary to popular belief, not every soon-to-be-mom experiences that coveted pregnancy glow throughout her journey so below are some tips to help you look and feel your most radiant and allows peace of mind that the nutrients you're feeding your skin will circulate to your baby from gestation to nursing. When it comes to skincare, particularly when you're pregnant, a "less is more" approach is recommended. The goal is to achieve balance and overall healthy skin by following a consistent routine. And you can take this routine beyond your pregnancy as well. Your morning and night routine should always begin with cleansing.
Cleansing at night time is the most important step of any healthy skin routine as it allows you to remove all dirt, pollution, bacteria, and debris from the day. The Complete Moisture Cleanse by Josh Rosebrook delivers herbal actives and plant-rich oils to gently cleanse your skin leaving it feeling hydrated and is suitable for all skin types but effective for those suffering from inflammation. The Clarifying Mint and Tea Tree Facial Soap by Palermo Body is a wonderful option for acne-prone skin with oil-absorbing clays and clearing power of tea tree and peppermint.
The next step should be your toner which will help balance the skin's PH levels while preparing it for any moisturizers and treatments. Cistus and Moonlight Face Mist by Earthwise Beauty is infused under the moonlight which amplifies its healing properties and corresponds to the yin which is the female element that rules beauty, intuition, insight, and patience. The Solar Rose Water by Sun Potion is a high vibe auric cleansing mist is not only skin-soothing but heart-opening.
Serums and oils are what feed the skin with nutrients that are vital for health and can address specific skincare needs. Rose Serum is an all in one serum + moisturizer + skin healer that will adapt to your skin and its environment with healing and youth-enhancing ingredients leaving only softer more radiant skin. Aknari Youth Brightening serum by Mun is perfect if hyperpigmentation is an issue. Not only does it brighten, but it also assists in boosting collagen production and is gentle enough to use under the eyes.
Next is locking everything in with a quality moisturizer. Super Skin Food by Honey Girl Organics is an extremely rich formula ideal for drier skin types but can be used as a spot treatment for all skin types on scars, dark spots and dry patches. Ambrosio do Cerrado is a great daily moisturizer for all skin types. With a blend of aloe vera, vitamins, minerals, and Moringa and Pequi, it can reduce redness, even skin tone while softening and smoothing any fine lines.
Daily SPF is vital for maintaining healthy skin and prevents dark spots from worsening. Farizad's Sun Veil Protector by Earthwise Beauty can be mixed into your moisturizer for a custom blend of SPF using non-nano zinc oxide. Perfect for all skin types but especially friendly for oiler or combination skin types. Nutrient Day Cream in tinted or untinted by Josh Rosebrook can be used on top of your previous moisturizer or on its own as this hydration day cream does double duty (or triple with some sheer coverage with the tinted option)
Taking a few minutes each day and evening to care for your skin during this special time is key in preparation for motherhood. Use this guide to carry you throughout your pregnancy and when your little one arrives to achieve and maintain that goddess glow!
xoxo PWB