Category_#CLEANbeautyedit
Meet Trinity: The Wellness Entrepreneur + Founder of Golde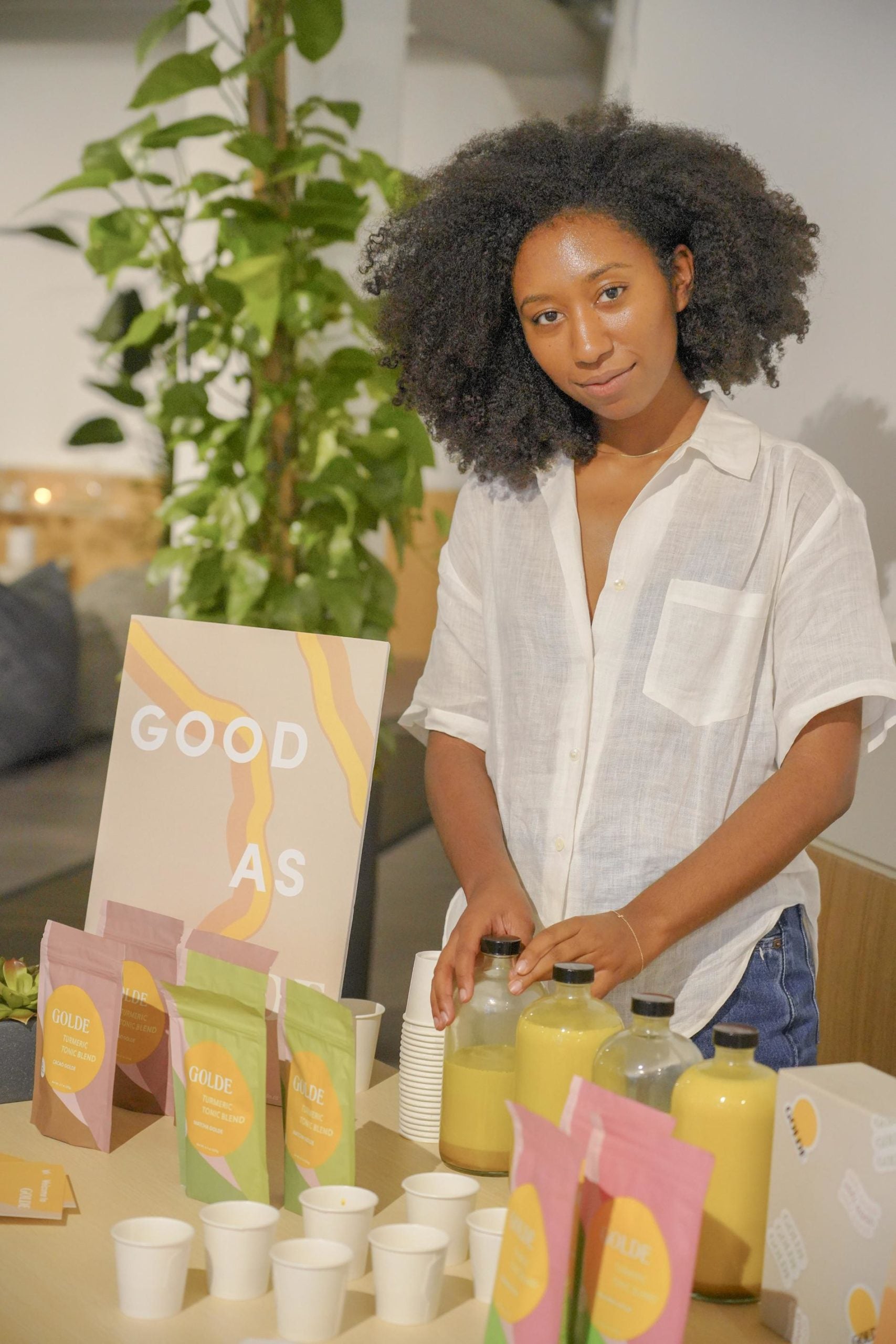 Meet Trinity: The Wellness Entrepreneur + Founder of Golde
Meet Trinity Mouzan Wofford, the almost doctor, turned wellness entrepreneur and founder of an incredible turmeric based superfood brand aptly named Golde. Trinity grew up surrounded by nature in the Hudson River Valley where her approach to beauty and wellness was greatly inspired by her surroundings and family.
PWB: What is your personal philosophy on beauty + wellness?
Trinity: I think that my biggest philosophy is to keep things really easy and with a feel-good approach. Oftentimes wellness can feel overwhelming to people. And even in a way punitive where you're sort of going through these challenges in order to achieve wellness. My vision is really making easy simple decisions that work best for your health and wellness.
PWB: How did your clean beauty journey begin?
Trinity: It was sort of a natural progression over time. When I was younger I had pretty oily skin so I was used to applying pretty harsh products and layering them aggressively. Over time I found that as I got older my skin was less receptive to such an aggressive approach. From there I sort of just started playing around with the occasional natural products and slowly I found that these products were not just as effective but more effective than traditional formulas and then from there I just made the switch.
PWB: What are some of your favorite brands?
Trinity: I love Marie Veronique. She has some really great products. I love the pre and probiotic facial mists. Also I'm really into this Japanese brand called Chidoriya Secret de Maiko. They do this really awesome facial moisturizer with a shea butter base and botanical extracts. I don't use too many different things at once. I try to keep things really simple.
PWB: What does your daily beauty ritual look like?
Trinity: Generally I will start by washing my face with savon stories which is a brand based in Europe. They have this really great cleanser. It's a really nice and gentle face wash I use every morning then spritz my face with the Marie Veronique mist or the Heritage store rose water mist. Then after I follow up with moisturizer from Chidoriya Secret de Maiko.
PWB: If you were stranded on a deserted island and you could take only ONE beauty product what would they be?
Trinity: My moisturizer
PWB: What beauty lessons did you learn from your mother?
Trinity: What I learned from my mom was to not take it too seriously. My mom was always really into doing face masks but she was never the type of woman who felt she had to do something extra to be presentable. Her beauty was all about exploration and enjoyment
PWB: What are some of your earliest beauty memories?
Trinity: I've always been into doing beauty treatments at home. So I was oftentimes mixing up custom face masks with what was in my refrigerator to see what would work
PWB: Any beauty mistakes you wish you never tried?
Trinity: Just not treating my skin with kindness and using a lot of aggressive products.
PWB: Who are the people who inspire you the most that help keep you going each day?
Trinity: I would say my co-founder who's also my boyfriend. We've been together for 8 year and is my partner in everything at this point. He has been a really crucial part of my life for the almost decade now.
PWB: Who are some of your beauty idols/icons?
Trinity: To be honest I'd have to go back to my mom because she just has this wonderful carefree attitude toward beauty and how it's a way to play and enhance but not necessarily a way to validate oneself. So I've always been appreciative of her philosophy
PWB: How does clean beauty impact your daily life/mood/the way you feel?
Trinity: Being a founder in the wellness space is really tied into what we do. We are actually launching some beauty products at Golde. We're getting into that space which is wonderful as clean beauty is becoming the new standard for skincare and cosmetics in general. So it's just really exciting to see that movement taking place. It's really great to see how we can use more natural products to really balance our skin instead of aggressively treat it. My skin care feels like a great part of my self care routine on an individual level.
PWB: Name one beauty product that you currently have in your bag that you wish you could swap out for a clean beauty product?
Trinity: My routine is really as simple as I mentioned. I don't really have anything that's not clean. I've been lucky enough to be able to find products on the market that are solid replacements for what I used to use and I've been able to design a product that has replaced a lot of the more traditional harsh skin care products I was using before. So I don't have anything that's not clean!
In 2017, Trinity Mouzan Wofford launched Golde with her partner, Issey Kobori. Driven to make wellness fun and approachable for consumers, the brand's refreshing take on wellness has resonated with an incredible range of consumers and brands. Learn more and stay update to date with Golde and Trinity at @Golde and @Trinitymouzon
xoxo PWB