Category_Skincare
Ingredient Highlight: Prickly Pear Seed Oil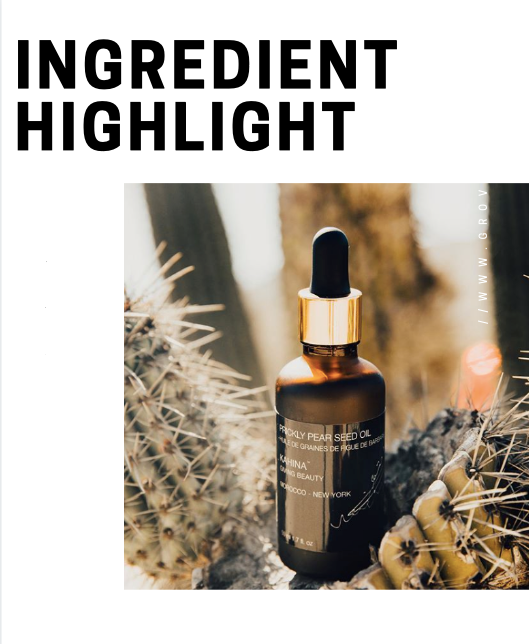 Prickly Pear Seed oil originates from several places around the world including the United States, Mexico, South America, The Mediterranean. But the BEST prickly pear seed oil comes Morocco. Also known as barbary fig oil or Indian fig, prickly pear seed oil comes from the prickly pear flesh and is a member of the cactus family. This plant includes flowers that can be found in a variety of shades including purple, red and yellow. This plant has been used for human consumption and highly praised for its water content of about 85% water. The seeds are a compilation of proteins, fatty acids and is high in Vitamin C all of which are great for the skin.
For many centuries prickly pear has also been prized for its incredible healing, medicinal and culinary purposes. Many people use the flesh of the fruit to heal burns, scratches and other injuries. The fruit has also been used to make cough syrups and even to treat diabetes and high cholesterol. This truly is an amazingly versatile fruit and generations of people have passed down its ancient secrets over time including
skin care
! This fruit is also an incredibly sustainable source but can be quite costly to harvest. While the fruit typically contains approximately 150-300 seeds each, the seeds themselves are super tiny and contain only about 3-5% of the precious oil. It takes a ton-LITERALLY of prickly pear fruits to products only one liter of prickly pear seed oil.
What are the benefits of Prickly Pear Seed Oil?
Aside from all the healing and medicinal uses, prickly pear seed oil has gained a reputation for being a skin-savior. The benefits for the skin as well as the hair make this one of the most versatile oils for beauty. The components that make up this precious oil are what make it such an incredible and effective ingredient in skincare.
Restores the Skin:
The oil and its restorative properties can help reduce early signs of ageing including the appearance of fine lines and wrinkles. The presence of oleic acid in the oil also helps the skin fight off free-radical damage, thus reducing the appearance of dark spots and age spots. This oil has the remarkable ability to facilitate a youthful and
glowing complexion
overall. It's also high in Vitamin K which is a highly underrated vitamin that a lot of people don't know about. Vitamin K can reduce under-eye circles, brighten the skin, even the skin tone and help reduce the appearance in broken capillaries which is common amongst thin skin.
Provides Optimal Hydration:
Due to the fact that this oil has the ability to retain moisture even in the driest of climates, when applied to damp skin, the oil absorbs quickly into the skin allowing for deeper hydration and exceptionally nourished skin. Also due to the presence of phytosterols which looks similar to cholesterol compounds, it has the ability to bind to water. This can also help with the production of collagen. Collagen is needed to keep skin looking and feeling soft, youthful, and supple. Phytosterols are also knowns to slow and reverse signs of aging.
Plays Well with Others:
Because prickly pear seed oil is high linoleic acid, this oil makes it the ideal choice for all skin types. Yes this includes dry, oily and, acne-prone skin types. This is the perfect oil for literally all skin types
Versatility:
Not only is the oil excellent for the skin, it works wonders for the
hair
and scalp as well. Due to the presence of anti-inflammatory properties, the oil has the ability to revive and replenish the scalp creating an ideal environment for healthy hair to flourish. Prickly pear seed oil is also very high in Vitamin E which is very hydrating and can smooth
frizzy
hair. In its single origin form you can add a bit of the oil to your hair conditioner and use as a leave in treatment.
Properties of Prickly Pear Seed oil:
Fatty Acids:
The properties of essential fatty acids and its varieties present in prickly pear seed oil include linoleic acid, oleic acid, and palmitic acid. Let's break these down a bit further to better understand their benefits for the skin
Linoleic Acid:
An omega fatty acid that works to heal and repair by strengthening the skin's barrier and allowing better moisture retention. Also referred to Vitamin F, linoleic acid can fight inflammation and can reduce acne, help cold sores, and minor burns and rashes.
Palmitic Acid:
Known for its high antioxidant properties, this fatty acid is great for healing eczema. It's actually found in our skin naturally but as we age, it begins to diminish over time
Oleic Acid:
This fatty acid is what seals in all the moisture which is what you want in order to optimize hydration as well as allowing deeper penetration of other
ingredients
.
Vitamin E:
Prickly Pear has 150% more Vitamin E than other oils including
Argan oil
. This powerful antioxidant is a free-radical boosting ingredient which can help with slowing the aging process of the skin and prevents further damage. Vitamin E is also amazing for fading dark marks and scars on the skin.
Phytosterols:
This binds water to the skin to help the skin retain moisture and reverse the signs of aging.
Polyphenols:
These are major work horses as they boost anti-inflammatory, antioxidant and anti-carcinogen properties! The also balance oxidates stress which is an imbalance of free-radicals and the bodies' ability to fight them off. Polyphenols are also heroes when it comes to preventing and treating damage from the sun
Some of our favorite products that including prickly pear seed oil that you'll love and can be an incredible addition to your skincare routine:
Aknari Brightening Youth Serum by MŪN
Prickly Pear Seed Oil Rollerball by Kahina Giving Beauty
Prickly Pear Seed Oil by Kahina Giving Beauty
Sea of Clouds Herbal Face Serum by SUU KUU
Protect + Revive Moisturizer by MŪN 
In conclusion, not only is prickly pear seed oil extremely powerful with many skin and hair benefits, its versatility make it perfect for all skin types and allows all other products to work their absolute best.
xoxo
PWB