at home beauty
Beauty In The Time of Covid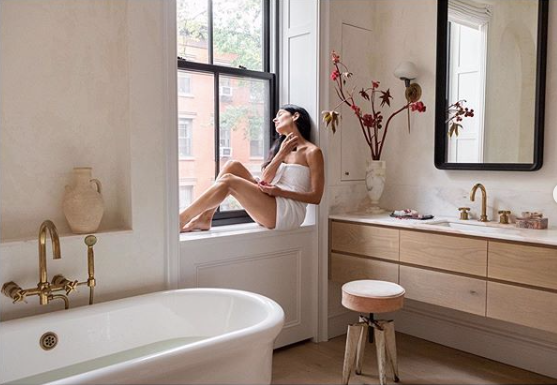 Plant based beauty and it's effect on your wellbeing
Beauty in the time of Covid. As we continue to ponder on what the future may hold for us outside and after quarantine , it's causing a lot of people a great deal of anxiety. Fear of the unknown coupled with the inability to live out what was once our normal life has completely shifted. As a result people are seeking out ways to not only connect but to feel better. The simple act of feeling better can have a profound effect on everything. Not only our mood, but our overall well-being and sense of self. While we are unable to leave our homes at the moment, there are plenty of things we can do while inside that can make us feel better via beauty in the time Covid.
When it comes to things like beauty, it's often looked at as frivolous or unnecessary. But that can't be further from the truth. Studies have shown that beauty and skincare products when used have a profound psychological effect that goes well beyond just looking attractive. In fact the simple act of self care can reduce stress and anxiety levels while also making one look better which in turns makes people feel better. This is part of having a routine or a ritual that is not only tactile but personal. Anxiety induced stress can cause hormonal shifts which can alter our skin and our hair causing break outs, weight loss and hair loss. Incorporating a simple, healthy beauty routine in your daily life now and after quarantine is over, can help reduce stress, anxiety and promote over-all wellbeing. Our bodies are living breathing organisms that are compatible with the Earth. Focusing on products that have plant based ingredients is key because the body responds better to ingredients it naturally recognizes.
Here are some of my favorite tips using plant based products that I recommend to reduce anxiety during Covid:
1. Take a bath
Using sea salts and aromatherapy can help melt away stress and is a great pre-bedtime ritual that will induce much needed sleep. Light some
candles
and allow yourself to soak for at least 15 minutes. Getting a good sweat in during the bath helps in many ways. Flushes out toxics, improve blood circulation and improves the skin's over
clarity
and tone. Here are some of our favorite stress reducing
bath products
that everyone in the home can share:
Replenishing Salt Soak:
2. Practice Gua Sha
The time honored tradition of using a gentle scraping technique that facilitates the movement of the lymphatic drainage system not only feels amazing but helps to reduce facial tension that can lead to pre-mature aging and break outs. This is a ritual that can and should be done daily. It can be done not only on the
face
but on the body as well. Feels like a delicious mini massage! One must be sure to apply a facial
oil
before using to allow the
tool
to glide along the skin without pulling or tugging.
Gua Sha Sibian Bian Tools- 2 Piece Set:
Vitalessence Serum-Oil:
3. Give yourself a scalp massage while boosting hair growth
The act of massaging the scalp enhances blood circulation in the head and neck area. It helps to strengthen the roots of the hair and nourishes each strand allowing
new
hair growth. Scalp massage can also reduce dandruff and dry scalp issues. I recommend using a scalp oil when doing the scalp massage as it will allow the benefits of the oil to penetrate deeper for faster hair growth.
No. 1 Scalp Mask Oil:
4. Give yourself a facial
We can't go to spas right now so indulging in an at home facial and including exfoliating and
masks
into your normal skincare routine will help to keep the skin clear, hydrated and toned. We cannot underestimate the power of a good skin day so dedicating 1 day per week to give yourself a mini facial is excellent. We're most likely not wearing much makeup these days or at all, so focusing on proper skincare and keeping hands off the face may make you decide not to want to return to makeup after quarantine because your skin no longer needs it.
Herbal Facial Polish:
Advanced Repair Mask:
5. Switch to natural deodorant
What better time to make the transition from antiperspirant to a natural deodorant than now? Now that we are stuck inside chances are we are barely getting dressed and we're definitely not going anywhere. So for anyone contemplating natural deodorant or who was on the fence due to the unavoidable stink factor at first, this is the time. You can even decide to go totally au natural as well if you want but giving up the antiperspirant now is ideal since you're likely not as concerned about BO while you're alone or with your family as much as you would around other people. Plus you can easily freshen up in the privacy and comfort of your own home if it starts to get weird.
Tangellow Natural Deodorant:
To close, I would like to extend my deepest and heartfelt gratitude to everyone who has supported me and Pretty Well Beauty during this time. If there is anything I can do to help and offer support or even words of encouragement please don't hesitate to reach out to me personally. We really are all in this together and will come out stronger and better on the other side. It is my hope and prayer that this time inside will allow everyone to reset and re-think how they want to navigate their lives and this planet after quarantine is over. We simply cannot go back to status quo. The lesson and take away for me is not to take anything for granted. Even the smallest things can make a collective impact. We are all witnessing this now together. I look forward to connecting and re-connecting with you all once it is safe again and I'm sending you all my love. Stay safe and well.
xoxo Jazmin Alvarez, Founder