Category_Skincare
7 must-have body oils to keep your skin from cracking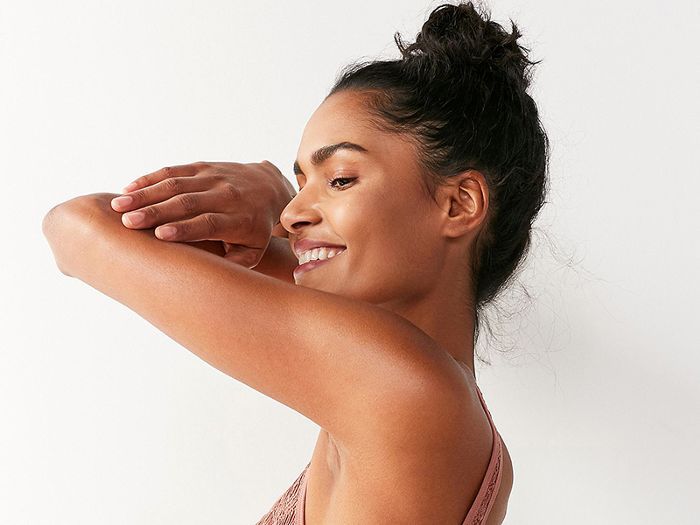 7 must-have body oils to keep your skin from cracking.
Maggie Mattuchio Flynn shares with us her tried and true favorite body oils that keeps her skin happy and thriving!
With extreme temperatures, heating systems and heightened stress from the holidays wreaking havoc on your skin, taking time to moisturize is imperative and can be incorporated into a daily self-care routine. Plus, it is an excellent way to stimulate your lymphatic system during winter months to boost your immunity. It's crazy how a little body oil can go a long way. Finding the perfect winter partner to keep skin hydrated, happy and whole when the temperatures drop can be frustrating and expensive.
To streamline your search, we've rounded up our favorite body oils that are organic, clean, and with minimal ingredients - yes, what you put ON your body goes INTO your body. Cutting long hot showers short and using less soap will also aid in the preservation of your body's largest organ during winter months. Here are the best body oils in the clean beauty space that you and your skin should know about. All have been formulated without parabens, phthalates, petrolates, sulfates, animal-derived ingredients, artificial dyes or fragrance. So in no particular order, here are the body oils that made the cut:
Wonder Valley Hinoki Body Oil – Two words: Cozy Fireside. This oil transports you to the brightest and warmest campfire with your favorite blanket and a good book. A comforting moisture cave that I didn't want to emerge from. Bottled in Yucca Valley, CA and fueled with the intoxicating scent of rare Siberian fir and Japanese Hinoki, this luxurious skin-softening body oil penetrates deeply to hydrate, promote elasticity, and fortify the integrity of your skin's natural barrier. Unisex in nature and made with magical Wonder Valley Olive Oil. $85
Bella Skin Beauty Body Oil – Two Words: Wowie Zowie. This LA-based organic skincare is composed of 31 hard-working healing oils that will replenish, repair and rejuvenate your skin. Moroccan Argan Oil, Tamanu Oil, Hemp Seed Oil, Pomegranate Seed Oil, Raspberry Seed Oil, Cranberry Seed Oil to name a few will protect your skin and promote regeneration to highlight your skin's natural radiance and softness. The combination of natural essential oils like Jasmine, Eucalyptus and Geranium propel you into a restful state of mind, inviting a bit of serenity and calm and a little bit of light to the dark days of winter. $72
Leland Francis Body Serum – This oil is the "from my lips to God's ears" answer to winter blues. YOU CAN USE THIS ON YOUR FACE, YOUR BODY, AND YOUR HAIR. One-stop beauty shopping. A multi-purpose, filler-free, without added parabens, fragrances, or artificial colors body oil that works wonders on all skin types and all gender types and all body types. Leland Francis sets the natural beauty bar high with its handmade, cruelty-free, vegan skincare formulations crafted in the USA. The apricot oil leaves your skin looking luminous and younger, the faintest hint of clove, bergamot, and neroli leave your senses subtly relaxed. Apply everywhere directly after bathing. $88
Mun Ayour Body Toning Serum – The fountain of youth in a little black bottle - A powerful treatment and fast-absorbing serum for the body to soften, smooth and tone the skin that is effective for all skin types. Ayour Body Toning Serum is enriched with Moroccan Olive Oil, a highly effective antioxidant and anti-inflammatory that brightens and tones the skin while absorbing quickly. Combined with Cucumber Seed Oil, Rosehip Seed Oil, and Prickly Pear Seed Oil, Lavender, Neroli and Frankincense to soothe skin and provide anti-aging benefits reducing the appearance of wrinkles, this fast-absorbing serum will leave the skin moisturized and silky-soft. Apply directly after bathing or throughout the day for an added moisture boost. $75
Kahina Giving Body Serum – Bring the Moroccan Hammam to your bathroom with this complex blend of steam distilled essential oils that evoke the sacred Imperial city of Fez, Morocco. This moisturizing body oil, rich in Vitamin E, replenishes and restores dry skin while rose and orange blossoms are mixed with citrus notes and layered over the scents of patchouli, sandalwood, and ylang-ylang, with lingering hints of cumin and clove from the spice market. If you can't be in Morocco, you might as well smell like you just got back. $98
Moon Bath Ritual Every Body Oil –Infused with the gender-neutral scents of sandalwood and cypress, Moon Bath Ritual Every Body oil is an all-inclusive olfactory moisture party. Combined with a blend of grounding and nourishing oils leaving you calm, connected, restored and socially active – for every bottle of Every Body Oil sold $1 is donated to Annunciation House, an organization aiding migrant, homeless and the economically vulnerable people of the border. Best results when combined with a self-massage practice. $48
French Girl Organics – With a love for sustainability and a nod to timeless skincare combinations, French Girl Organics delivers a lovely combination of consciously sourced North African Argan Oil full of rich, fatty acids essential to skin health and fragrant essential oils (Ambre, Jasmine or Rose) lend a subtle natural fragrance without chemical enhancers. Camellia Oil and Sunflower Oils promote healthy aging with Oleic and Omega Fatty Acids. Sustainably sourced Coconut and Palm Kernel Oils contain antibacterial properties and provide deep hydration. Apply directly after bathing or add a few drops to your soak. $42
You can learn more about Maggie Mattuchio Flynn and follow along with her discoveries at
@mjmf