Winter Beauty Salad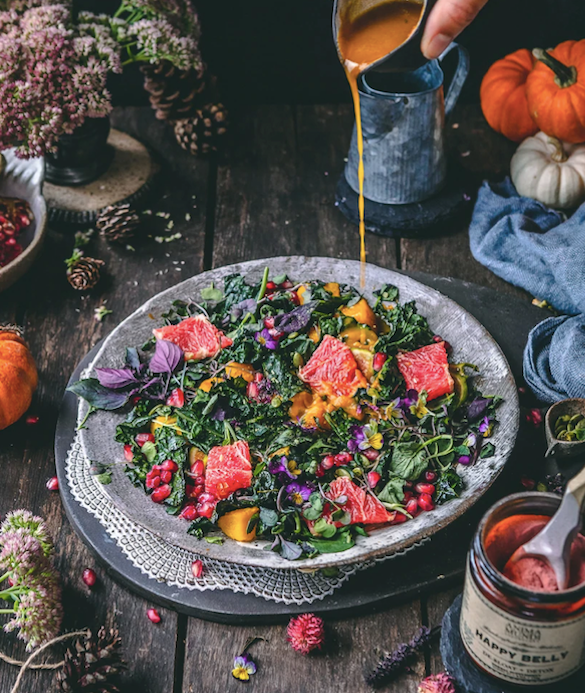 Winter Beauty Salad
It's January again and we all know what that means: new goals. Whether it's to get organized, exercise more, or learn a new skill, this time of year always comes with a new rush of enthusiasm to upgrade our lifestyles. If your resolution is to eat healthier, then you're in luck. Let us introduce you to the Winter Beauty Salad! A powerhouse of nutrient-dense whole foods, it makes the perfect lunch or post-workout snack. Combine it with Anima Mundi's super powders and you have an inspired salad you won't get bored of and your belly will thank you for!

Winter Beauty Salad Recipe
Dressing Ingredients:
1 tsp of

 

Happy Belly powder

1/4 cup EVOO

1/4 tsp of salt

1 tbsp freshly squeezed grapefruit juice

2 cloves of garlic

1/4 cup of pumpkin puree

3-4 leaves of basil

1 tbsp of maple syrup
10 leaves of kale, torn and cut*

2 cups of pumpkin, cooked and cubed*

1/2 cup of pomegranate seeds

1/4 cup of pumpkin seeds

1/2 cup of grapefruit, cut into squares

1/4 cup of microgreens

 1 tsp of 

Chlorella

 

sprinkled over top 
violas, blue lotus, calendula or any edible flowers sprinkled over
*Method:
Blend all your ingredients for dressing in blender. Taste for salt and tang.
Salad: Massage your kale with: 1 tbsp EVOO, 1 tsp garlic and onion powder and 1/2 tsp of salt. Bake in oven for 10 minutes at 350F
For a whole pumpkin: cut in half and bake at 400F for 25 mins. Remove and cool. Peel the pumpkin. Cut into squares Make a marinate of 1 tbsp olive oil, 1/2 tsp garlic & 1/2 tsp onion powder and bake in oven for another 5 minutes.
INGREDIENT SPOTLIGHT: 
Happy Belly Powder: De-bloat + Boost Metabolism: Digestive aid powder, botanical digestive enzyme booster, and belly detox
Easy to dust into anything -

from healthy foods, smoothies, and juices, to simply dissolving in water to drink as a digestive juice before meals

Also assists fat breakdown
Have a happier time losing weight with Anima Mundi's super powders. Discover more benefits of Happy Belly Powder here. 
Enjoy in good health!