Meet Chinonye Akunne, Founder of Ilera Apothecary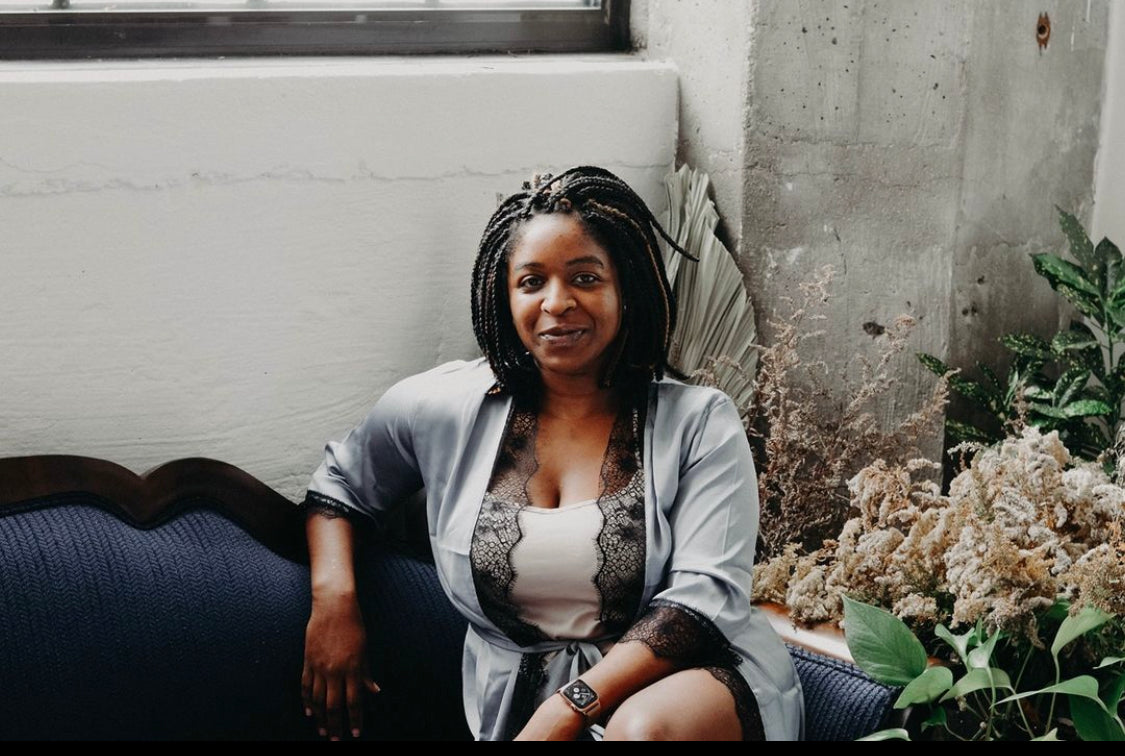 Meet Chinonye Akunne, Founder of Ilera Apothecary
Next up in our female founder series, we're celebrating an entrepreneur that has been with us for years. Since 2015, she, her sister Nneji, and their team have continued to develop African, plant-based skincare to help people feel more confident in their skin. It's Chinonye Akunne, Co-Founder and Director Of Business Development and Marketing at ILERA Apothecary!
ILERA Apothecary launched in August 2015 and is based in Detroit, Michigan. Chinonye recalled how her brother and their upbringing gave them the idea.
"He was vegan and looking for a natural deodorant", she said. "Growing up, we always used natural products and ingredients from what we ate to what we put on our skin, so being natural, organic, and clean is a part of my ethos as a person."
Akunne is a first-generation Nigerian-American with a passion for sustainability as well. She even received a masters in Environment Health from Eastern Kentucky University, so when it came time to begin this journey, she made sure to incorporate it every step of the way. 
"When we started, the market was filled with things that were cheap and you could tell they [the ingredients] were just fillers to sell a product," Chinonye remarked. "I did not want anyone to not be able to use my own because of what I chose to put in them, so I was intentional about it."
Chinonye's parents also inspired the brand, right down to its name. Ilera means 'health' in Yoruba (a language spoken in Nigeria) and apothecary is the pre-21st century term for a modern-day pharmacy, a nod to her father's profession. 
"I come from two generations of pharmacists; my grandfather owned pharmacies in Nigeria and my father does here in the US," she said. "Growing up in a pharmacy, seeing how simply taking care of yourself can extend your life, and just watching how my mom cooked, ate, and took daily walks were all very inspiring."
So how did one deodorant turn into an award-winning body care brand? Akunne gives the majority of the credit to her early customers. 
"It was their feedback. After we launched, we asked what they wanted to see next and they said they wanted to get ready with all-natural products instead of just some."
As for their luxurious packaging, Akunne said it started with wanting something nice. 
"We never set out to be a luxury brand, but it did tie into the sustainability aspect," she revealed. "You can refill and reuse our glass jars and the price for us is certainly higher, but I truly believe that you get what you pay for and our products last a long time."
Despite the costs, ILERA Apothecary's commitment to creating high quality consumer packaged goods has remained consistent. When you think of them, their decadent body butters may come to mind first. Chinonye's favorites are the body washes. 
"It's a low-foam formula that does not strip my skin of its natural oils and leaves it clean. My favorite scent is Awaken because it gives me an uplifted feeling from the bright citrus notes and puts a smile on my face!"
Not only are all of their products vegan, natural, and organic, but the ingredients they use are ethically-sourced as well. For example, ILERA Apothecary is a part of the Global Shea Alliance, an organization dedicated to ensuring Shea croppers are paid fairly and equitably. 
"Most of the time, women are the ones farming the shea, so they're the ones who get together, have Shea butter co-ops, and open schools and hospitals in their villages," Chinonye explained. "We wanted to be a part of that."
In 2020, the market size for Shea butter was valued in the hundreds of millions and is predicted to reach about $2.4 billion globally by 2030. The costs have increased dramatically as demand continues to grow. However, the wages received by Shea croppers in places like Africa and Haiti don't always match their impact; that's where the Global Shea Alliance comes in. 
Chinonye continued to stress its importance. "People don't realize it, but Shea butter is called "liquid gold" not just for the skin benefits, but because of the impact it makes on the women that are farming it as well. It really puts money in their pockets and creates stronger communities."
ILERA also has the OBODO Campaign, a series that highlights the people they reach everyday.
Clean beauty is another market heavily influenced by women; that is, until the senior executive levels at larger companies are reached. In honor of Women's History Month, we asked Akunne what she appreciates the most about being a female founder in this space. 
"I really like how female founders collaborate with each other and pump up each other's brands," she replied. "Having more women at the forefront of what clean beauty is inspires the people coming behind us and helps them know that it can be done. They've also been able to educate their spouses and guy friends in it and so that's why men's grooming is becoming such a big industry as well."
Seven years later, ILERA Apothecary products can be found in an assortment of metro Detroit stores and online shops. Several of their collaborations benefit local and international organizations as well. Though global issues, such as those in Haiti and the recent pandemic, have presented challenges, Chinonye has found creative ways to remain in the game. 
"Not having a lot of capital can kill a business instantly, but we've been able to weather the storm, and that's something I'm really proud of," she said. "It certainly made me very humble about the process, more efficient-friendly, more mindful of how we use our resources, and what we engage in."
Chinonye also insisted that they'll always be looking to expand and connect with other business owners, no matter how big ILERA may get.
"Collaborating with other brands and hosting giveaways has always been really powerful for us. We absolutely want to be a global brand and be acquired in the next 10 years, but only by a larger company with our same ethos and values." 
We are so proud of Chinonye and hope her brand continues to experience sustainable growth. Get ready for your confidence to grow with their amazing line of oils, butters, cleansers, oral hygiene products, and more here, and be sure to shop all our Spring beauty must-haves from ILERA right here.