Category_Recipes
Immune-Boosting Cocoa Latte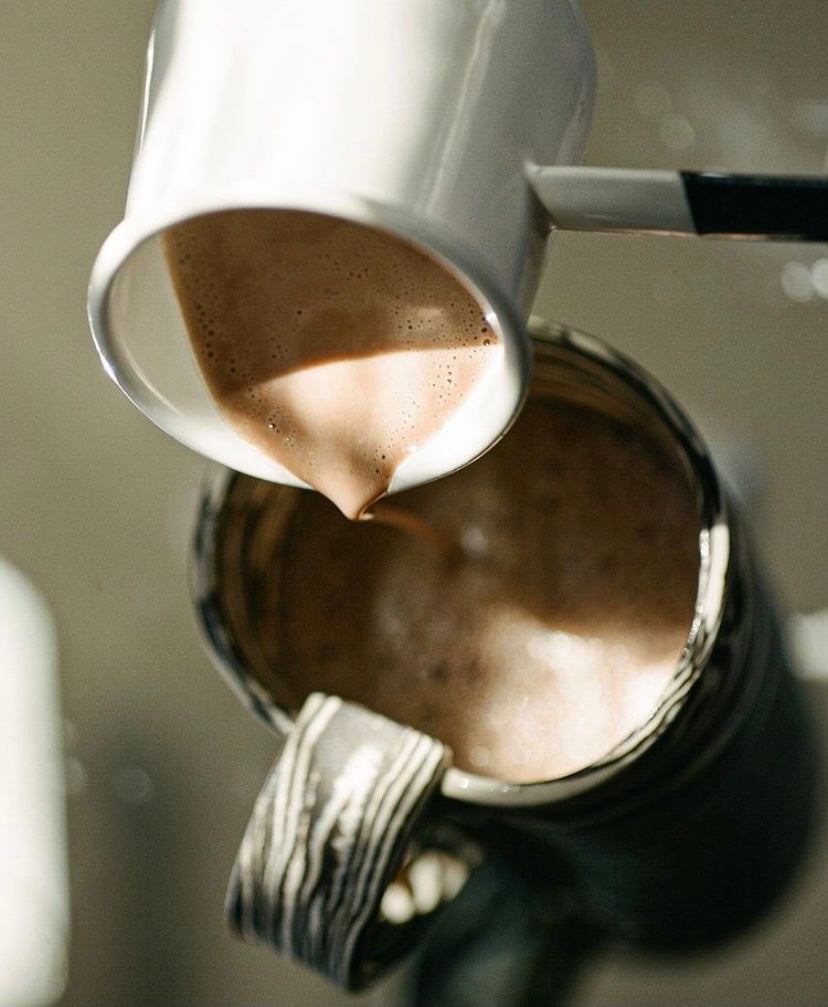 Immune-Boosting Cocoa Latte
'Tis The Season For Cocoa With a Twist
Hot chocolate has revolutionized (you can thank us later). The rich beverage normally indulged in when temperatures plummet, has been transformed into an immune-boosting tonic. Wooden Spoon Herbs' Mushroom Cocoa has a mix of six different medicinal mushrooms—chaga, cordyceps, lion's mane, and turkey tail—which can help improve everything from oxygen intake to brain function.
Made from fungi cultivated in upstate New York,
Wooden Spoon Herbs
is committed to providing "
botanical ingredients go above and beyond"—a mission that we cherish here at Pretty Well Beauty.
Each synergistic and effective formula uses whole plant medicines, as Mother Earth intended. No fluff, no fillers, and no isolated plant compounds.
We're only providing the good stuff—products that are both effective and delicious.
So, with the holidays in full swing, we thought it'd be fitting to put a spin on the creamy, chocolatey drink we all know and love. Below, find Wooden Spoon Herbs' iced cocoa latte recipe that'll leave you feeling grounded and satisfied.
Iced Mushroom Cocoa Latte Ingredients:
2-3 dropperfuls
Mushroom Magic
1 tbsp
Mushroom Cocoa
1 tsp cinnamon
½ tsp pink salt
½ tsp vanilla extract or flavoring
1 handful raw cashews or your favorite milk / milk alternative
Ice
Instructions for making the Immune-Boosting Cocoa Latte :
1. Start by soaking your raw cashews in water for 15-45 minutes, depending on how powerful your blender is. This will create a cashew "milk" once we blend all the ingredients together.
You can also skip this step and use any of your favorite nut milks.
2. In a separate bowl, add 1 tbsp of
Mushroom Cocoa
to hot water and stir (or whisk).
3. Add cinnamon, pink salt, and vanilla.
4. Add 2-3 dropperfuls of
Mushroom Magic
.
5. Blend for 1-2 minutes until the cashews are fully blended and you have a frothy latte-like consistency.
6. Pour over ice.
7. Top with cinnamon and enjoy!
***Can also be served hot.
Customize further: Add maca for a caramel flavor, add coconut butter for extra creaminess, add turmeric for a little spice, add a date or a little honey for more sweetness.
Ingredient Spotlight
Mushroom Magic: Six medicinal mushrooms, swirled with vanilla and cinnamon.
Able to normalize and optimize body system functionality in a subtle, natural way.
Mushroom Cocoa: Mix of three medicinal mushrooms with raw full-fat cacao, mesquite, and vanilla.
Helps bring more oxygen to the body and supports brain and nervous system function.
Mushrooms have a lot to offer. Discover more benefits of Mushroom Magic and Mushroom Cocoa. 
Here's to supporting your body on a cellular level with beautiful cocoa. Enjoy!
Interested in more? We've got you covered! Browse our selection of Wooden Spoon Herbs curated just for you
here
.
Juzanne Martin
PWB Marketing Intern & Content Writer
A versatile writer, Juzanne covers beauty, lifestyle, entertainment and fashion news. Delivering timely pieces that inform, entertain, mirror current trends and spark social conversations. Find more of her work
here
.