Category_Founder Q+A
Beauty of Hispanic Heritage
In celebration of Hispanic Heritage Month, hear from beauty founders and how their culture shaped their approach to beauty and well-being.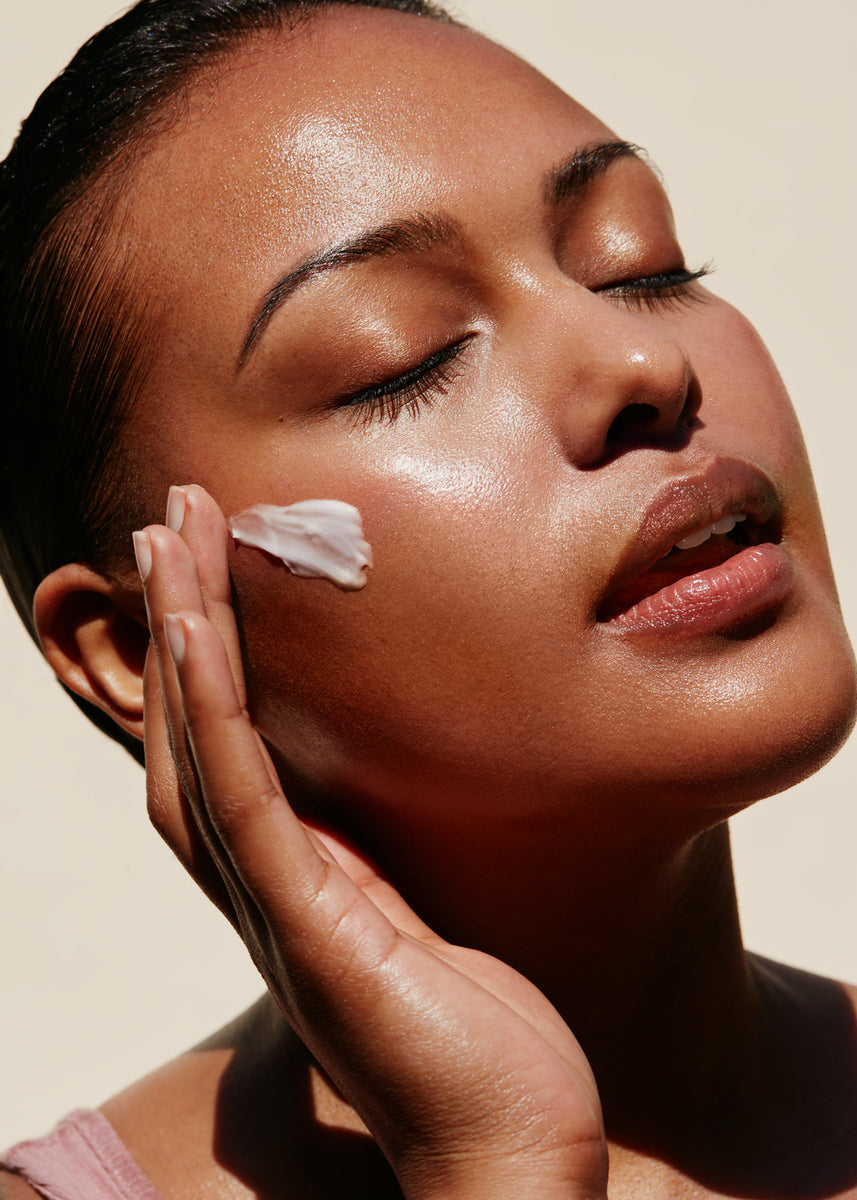 Beauty of Hispanic Heritage
Happy Hispanic Heritage Month! The beauty and vibrancy of the individuals that make up these communities is truly something to be celebrated. We at Pretty Well Beauty are lucky to carry products from some amazing Hispanic and Latinx founders. Although we cherish these founders every day, we are using this time to really highlight these individuals and the stories behind them. I interviewed Lucy Ashman, Founder of Tierra & Lava, Dillon Peña, Founder of Leland Francis, and Pretty Well Beauty's very own Jazmin Alvarez! Here is what they had to say:
PWB: What inspired you to start your own business?
Lucy: I am inspired by my love of ancient cultures and traditions, mysticism and magic, holistic self-care inside and out, nature, creativity, and travel.  I am passionate about discovery and creation with nature. I grew up in Belize inspired by astounding biodiversity.  And for the last 16 years I have lived in Guatemala with my family. Our whole region is rich in Mayan culture, natural resources, history, volcanoes, and micro-climates.  I love to discover special raw materials that both tell a story of Mesoamerica's people and our culture and then combine this knowledge with scientific research to make natural formulas that are good for our skin and our environment. We currently work with 65 small family farms in Central America and we are driven to help them grow as we grow.
Dillon: I'm a makeup artist and never really set out to start a business, but when I created my first product the Luxe Face Oil it was created to help prep skin for a makeup application. I chose the packaging because I wanted something that would look gender neutral and pretty on my makeup vanity when doing makeup on set or at a client's house.
Jazmin:  I didn't see enough transparency or representation within the clean beauty space. There were (and still are) a few gaps that I knew I was able to address and do better with.
PWB:  What got you interested in the beauty and wellness space?
Lucy: I have been playing with ingredients since the age of six! My love of nature created my career in eco-tourism which gave me the opportunity to talk to people who have lived in the same Mayan communities for generations, and they generously share traditional plant knowledge and Mayan rituals with me allowing us to create what we call "Conscious Care with Mayan Wisdom."
Dillon: I'm one of six kids; three boys and three girls. When I was in middle school my parents divorced and us kids were then raised by our mom in a single-family home.  As a young child I remember how my mom and would feel when she would put on her blush, eyeshadow, and lipstick. How powerful my Grandma Peña felt when she rolled her hair, and how my Grandma McRee empowered herself and her friends by buying and selling Avon.
Jazmin: I've always loved beauty.  I grew up around beauty since my mom was a hair stylist and I grew up in a salon.  When I started working in fashion I always found myself gravitation toward the beauty side of it and was just obsessed with beauty products.  I'd say I'm a beauty product collector for sure.  Do I need as much as I have? Absolutely not but I like to have options.  Wellness became increasingly more important to me while on my clean beauty journey.  It happened in tandem as I started to learn more about ingredients and their impact on health.  I had to face the real possibility that my health issues (fibroids) may have been linked to certain products and toxic ingredients I had exposed myself to for years. So with my clean consciousness awakening, so did my focus on what I eat and care for myself.
PWB:  How has your culture influenced your business and brand?
Lucy: I am British Jamaican with my childhood in Belize. My culture is a diverse and colorful mix of textures, food, land and music with some myth and spirituality thrown in. Belize and Guatemala are bright, bold and colorful, in architecture, geography and textiles that I express in Tierra & Lava's packaging design.  The strongest influence on my brand are the Mayan rituals and plant medicine which I combine with scientific botanic property research to create effective modern skincare formulas.  Traditional food and drinks also inspire my formulas. I want my formulas to sound natural and delectable enough to eat. I have converted traditional drinks such as Horchata into soap recipes!
Dillon: I grew up on a farm in Rural Oklahoma, where grew our food.  We were eating natural and organic before it was the popular thing to do.  I often look back at the summer days of working in the fields chopping cotton alongside my Grandpa Peña I think I started at maybe 7 or 8 years old. We'd start at sunup and work until it got too hot. At the end of summer my Grandpa McRee would then pay me for working on his farm, and that money was spent on school clothes. I think that work ethic is what has influenced my Leland Francis, I still wake up daily usually before the sun is up and get to work right away on things that need to be completed, then I go to set and work and come home and work on the brand more.   Being a brand owner means that the job is never really completed it just evolves and being raised on a farm taught me the importance of being a self-starter.
Jazmin: The practice of using ingredients provided by mother nature for our beauty and personal care is deeply rooted in my cultural identity and was how my mother took care of me growing up as well as her mom and grandmother before her.  It's how I'll care for my children someday too. BIPOC people have had to rely on natural resources for generations because it was 1.All they could afford 2. And the connection to earth was very much instinctual and guided by their ancestors.  There were no recipes ever really used to make things, just like cooking, we used our senses to determine what we needed for ourselves to care for our hair, skin and to beautify.  I remember making face masks with my aunt using items from the fridge and pantry as well as putting foods like eggs and oil, mayonnaise and avocados in my hair when I was growing up.  This was normal for us to do things like that at home.
PWB: What do you want people to experience when they use your products?
Lucy: I want people to experience all of the luxury truly natural products can have, and none of the crap so many personal care companies put in their products. Our formulas are simply plants and minerals, no fillers. My inspiration for Tierra & Lava is to share our region's special ingredients with the world -- such as Sacred Mayan Black Salt (black from our volcanoes) and Copal a tree resin found close to our most famous Mayan pyramid Tikal. I want people who care about social and environmental impact in their purchases to remember that they are helping small family farms in Central America grow sustainably when they purchase from Tierra & Lava.
Dillon: When people use Leland Francis, I want them to feel like they are treating themselves and I want them to be happy and embrace their beauty.
PWB: If you could go back in time, what piece of advice would you give younger you?
Lucy: Not to sweat the small stuff.  When I was younger, I would often be so determined to get everything in place before I started that I would get lost in the details, and stay stuck.  Sometimes I still find myself doing this and have to remind myself to have some perspective and see the big picture to move forward.  Trust yourself, lean into opportunities and let go of fear!
Dillon: If I could go back in time, I'd tell myself to never give up on dreams, to never be afraid of failure, and that you set your own destiny.
Jazmin: Trust your gut, it never lies. Take more risks because the worst feeling is not failing, it's living with regrets of what could have been.
Note from Jazmin Alvarez, founder of PWB on the Beauty of Hispanic Heritage. "Hispanic heritage and culture is something deeply personal and is a daily lived experience for most of us. From our language, to the food we eat and how we dress.  Beauty is certainly no exception (Fun fact, 86% of Hispanic women will not leave the house without makeup on) We are true beauty lovers and at Pretty Well Beauty, we are honored to have partnerships with some amazing beauty and wellness founders. They are paving the way for future generations of young Hispanic girls and boys in the future."
Discover some more of our Hispanic/Latinx brands including Axiology, La Tierra Sagrada, FLVC Wellness, La Maria and more.
You can explore products from all of the founders featured above and many more here.
By: Taylor Maness