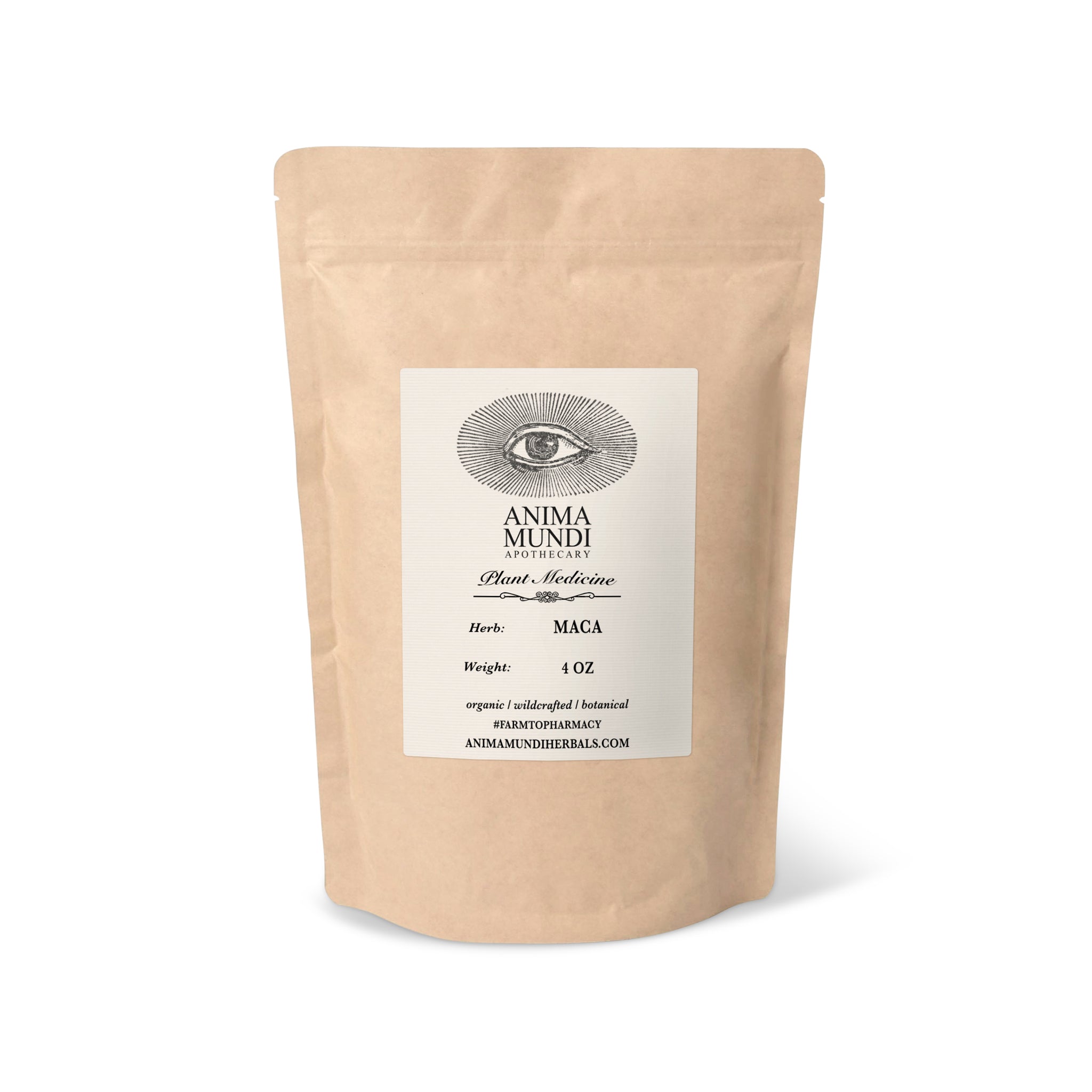 Anima Mundi
Maca | Energizer + Libido Booster
known as a potent adaptogen and aphrodisiac, broadly supporting overall wellbeing and a healthy mood
Andean Adaptogen
Maca has been utilized as a medicinal food for over 2,000 years by the people of the high altitude Andes regions of Peru and Bolivia. Maca was an important staple of their diet as it is able to grow wild and survive the harsh climates. Maca supported the people to adapt, reproduce, and thrive in harsh conditions that include severe cold, rugged terrain, low oxygen, strong sunlight and intense winds.
Highly nutritious, Maca has been used as a staple food source by the people of Central Peru for thousands of years, as well as a ceremonial offering in traditional sacred rites, as currency, and as medicine to improve overall health in both animals and people. 
Maca is nutrient-dense and naturally rich in copper, vitamin C, potassium as well as trace elements like iodine, iron, and zinc, fatty acids, and amino acids. It is known as a potent adaptogen and aphrodisiac, broadly supporting overall wellbeing and a healthy mood.*
Key Benefits: 
Packaged in a recycled kraft bag, with a biodegradable label
*  These statements have not been evaluated by the Food and Drug Administration. These products are not intended to diagnose, treat, cure, or prevent any diseases.
The ingredients that make a difference
MACA
Maca (Lepidium meyenii) Root* *Organic, grown in Peru
Jazmin's Tip
"Great for people who experience estrogen dominance or low testosterone."
Why Shop At PWB?
1. Product Safety
We will never carry a product formulated with any ingredient that has either been a known, or ever suspected, toxin to human health or the health of the environment.
2. Sustainable + Ethical
We ensure all labor used by our brands is fair trade and performed ethically in the sourcing of all ingredients and raw materials. We value brands that source as locally as possible, as well as from their natural habitats, for the best quality product.
3. Inclusive + Diverse
More than 50% of the brands offered at PWB are founded and led by BIPOC humans. We also believe in pricing diversity, so there is something for all budgets and lifestyles.
4. Product Performance
When all is said and done, we know even the highest quality products can fall short. Which is why we make sure every product we discover delivers on performance as well. Just because something feels nice isn't enough-it needs to work as well.