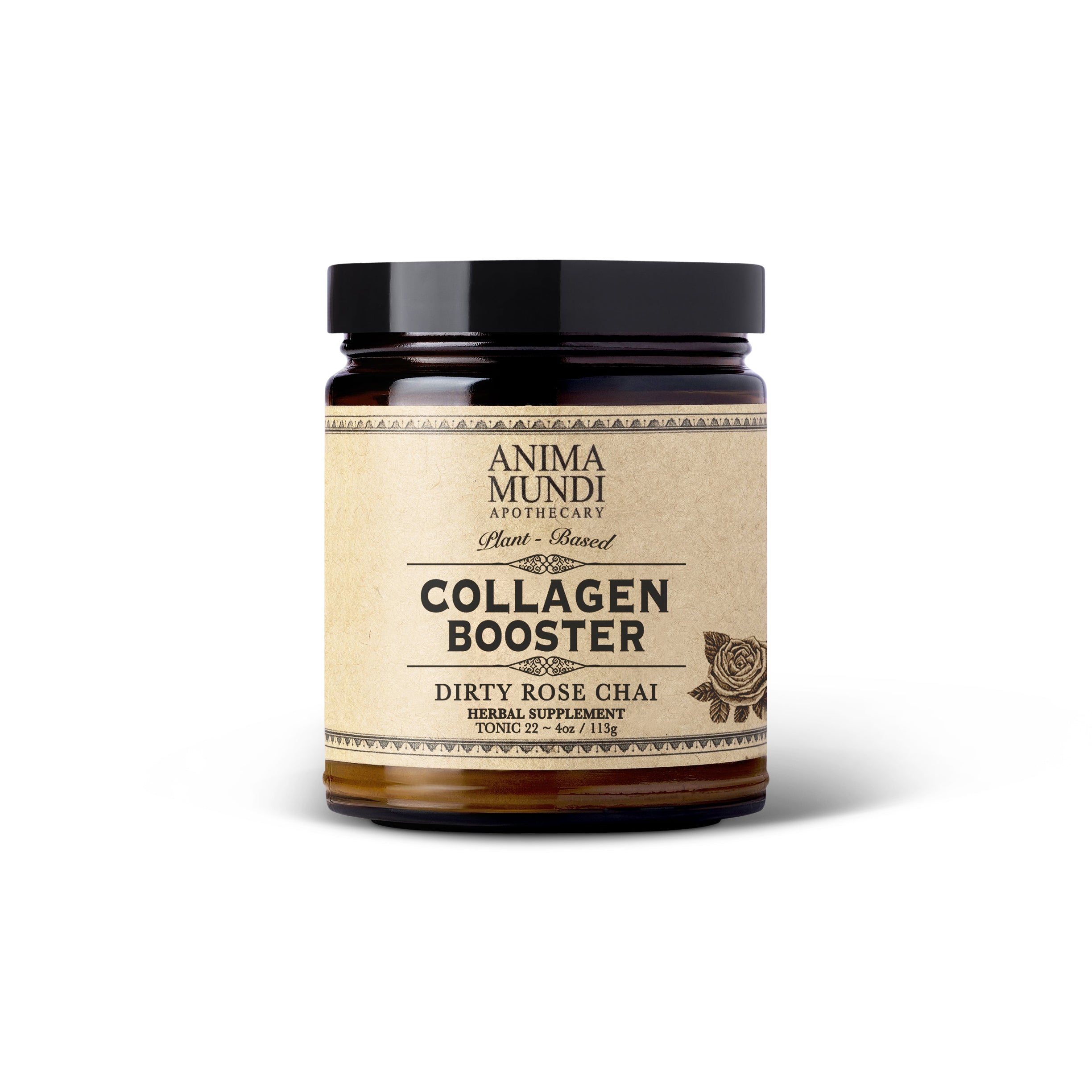 Anima Mundi
Collagen Booster Dirty Rose Chai: Plant based
Plant based formula composed of adaptogens, ancient herbs, grounding spices and flowers known to support and beautify, repair, and restore.
Vegan | Gluten-Free | Made 100% From Plants
This signature formula contains herbs known for their collagen protecting and boosting effects. Now including digestive supportive spices. This Collagen Booster formula is composed of adaptogens, ancient herbs, grounding spices, and flowers known to support and beautify, repair, and restore. This blend is an excellent plant- based solution to those that want to strengthen their bones, nails, hair, tissue, and skin with 100% herbs. This plant-based collagen is easy to use and bio-available. 
About the formula:
• SILICA + CALCIUM: Enhanced with horsetail and nettles which help build the body's own natural production of collagen with collagen co-nutrients such as silica and calcium for beautiful hair, skin, and nails. 
• ADAPTOGENIC: Boosted with adaptogenic powerhouses, like Fo-Ti and Gynostemma, for their beautifying chemistry. *Adaptogens are rare and remarkable plants that increase the body's ability to counter and resist physical, chemical, biological, emotional, and environmental stressors by raising nonspecific resistance toward such stress. They decrease the organism's susceptibility to illness by allowing it to "adapt" to the stressful circumstances. Adaptogens support metabolism, help restore balance to the immune, nervous, and endocrine systems, and allow the body to maintain optimal homeostasis. They usually also benefit the liver, cardiovascular system, kidneys, and pancreas.
• YOUTHFUL GLOW: This collagen supplement helps restore and maintain youthful levels of collagen and keratin.
• DIGESTIVE FLOW: Cinnamon, cardamom, vanilla, and rose are known to soothe and assist digestive ease. 
The ingredients that make a difference
Jazmin's Tip
"This is my favorite plant based collagen. The taste is spicy and rich which I love."
Why Shop At PWB?
1. Product Safety
We will never carry a product formulated with any ingredient that has either been a known, or ever suspected, toxin to human health or the health of the environment.
2. Sustainable + Ethical
We ensure all labor used by our brands is fair trade and performed ethically in the sourcing of all ingredients and raw materials. We value brands that source as locally as possible, as well as from their natural habitats, for the best quality product.
3. Inclusive + Diverse
More than 50% of the brands offered at PWB are founded and led by BIPOC humans. We also believe in pricing diversity, so there is something for all budgets and lifestyles.
4. Product Performance
When all is said and done, we know even the highest quality products can fall short. Which is why we make sure every product we discover delivers on performance as well. Just because something feels nice isn't enough-it needs to work as well.