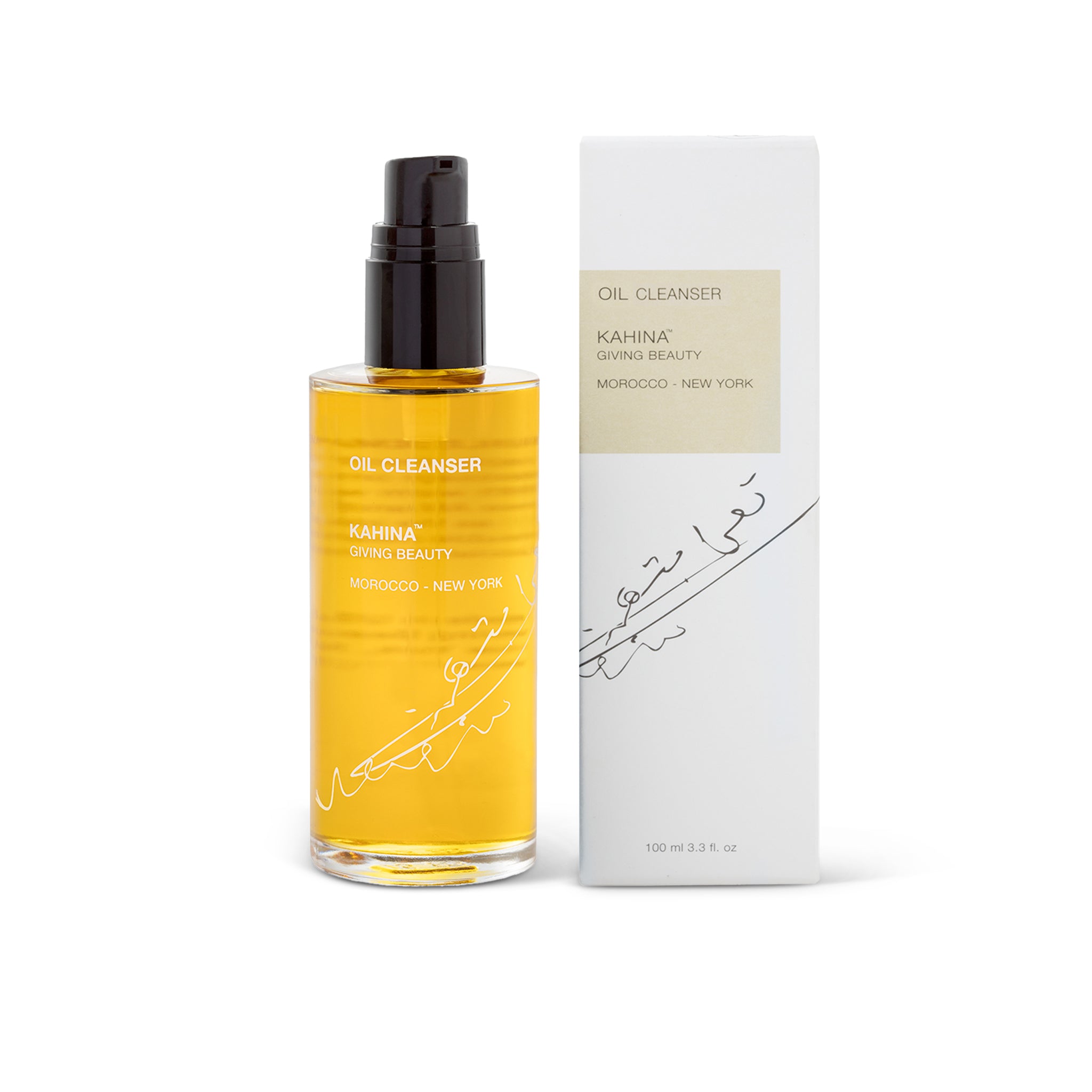 Kahina Giving Beauty
Oil Cleanser
Dissolve makeup, sunscreen and bacteria with this nourishing oil cleanser.
Oil Cleanser: WINNER OF THE "EXCELLENCE IN GREEN BEAUTY AWARD" BY A NIGHT FOR GREEN BEAUTY 
Dissolve makeup, sunscreen and bacteria with this nourishing oil cleanser that leaves skin clean and soft without residue. Super hydrating, antioxidant rich plant oils combine with healing and anti-inflammatory Calendula, Turmeric and Blue Tansy to calm and detoxify skin. Luxuriate in the scent of a blend of all natural neroli and geranium essential oils.
This unique Oil Cleanser is water soluble and can be removed with just water.  No washcloth required. Ideal for dry, sensitive and acne prone skin.
The ingredients that make a difference
Jazmin's Tip's
"Completely dissolves makeup even waterproof mascara!"
Why Shop At PWB?
1. Product Safety
We will never carry a product formulated with any ingredient that has either been a known, or ever suspected, toxin to human health or the health of the environment.
2. Sustainable + Ethical
We ensure all labor used by our brands is fair trade and performed ethically in the sourcing of all ingredients and raw materials. We value brands that source as locally as possible, as well as from their natural habitats, for the best quality product.
3. Inclusive + Diverse
More than 50% of the brands offered at PWB are founded and led by BIPOC humans. We also believe in pricing diversity, so there is something for all budgets and lifestyles.
4. Product Performance
When all is said and done, we know even the highest quality products can fall short. Which is why we make sure every product we discover delivers on performance as well. Just because something feels nice isn't enough-it needs to work as well.