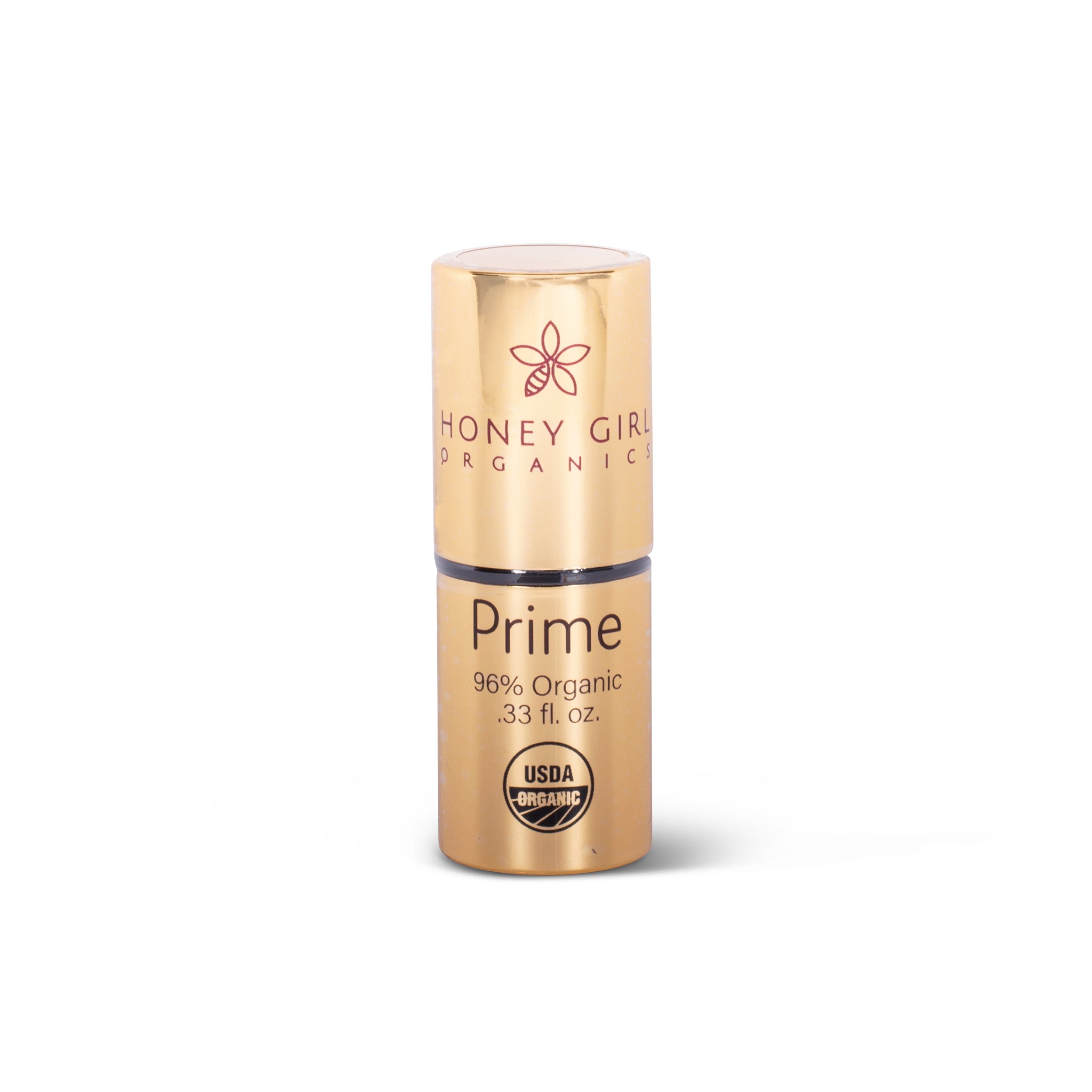 Honey Girl Organics
Prime
Packaged in chic eco-friendly container in a solid stick making it perfect for travel.
Prime is an all-natural, certified organic conditioning primer for wearing under makeup. Not only will it smooth skin and boost makeup staying power, it'll help minimize the appearance of pores as it hydrates.

Packaged in  chic eco-friendly container in a solid stick making it perfect for travel.
It's the perfect stick to have on hand to quickly and effectively prep skin before makeup application. Reducing fine lines and evening out skin tone is made easy by applying the Prime before foundation.
The perfect companion to Protect after using Prime if you'll be in the sun.
You'll love the soft, smooth texture of your perfectly prepped skin! Simplicity is key when it comes to clean, green beauty. Made with only 4 organic ingredients. This is minimalism at its finest.
Only 4 incredibly powerful ingredients that make the Prime Stick a healthy alternative to conventional primers.

All Honey Girl Organics products are completely non-toxic, and cruelty free -of course!
*Bees at work.  Not suitable for Vegans
The ingredients that make a difference
Jazmin's Tips
"Can be used on dray areas of the body like the elbows."
Why Shop At PWB?
1. Product Safety
We will never carry a product formulated with any ingredient that has either been a known, or ever suspected, toxin to human health or the health of the environment.
2. Sustainable + Ethical
We ensure all labor used by our brands is fair trade and performed ethically in the sourcing of all ingredients and raw materials. We value brands that source as locally as possible, as well as from their natural habitats, for the best quality product.
3. Inclusive + Diverse
More than 50% of the brands offered at PWB are founded and led by BIPOC humans. We also believe in pricing diversity, so there is something for all budgets and lifestyles.
4. Product Performance
When all is said and done, we know even the highest quality products can fall short. Which is why we make sure every product we discover delivers on performance as well. Just because something feels nice isn't enough-it needs to work as well.