My Natural Journey : Jazmin Alvarez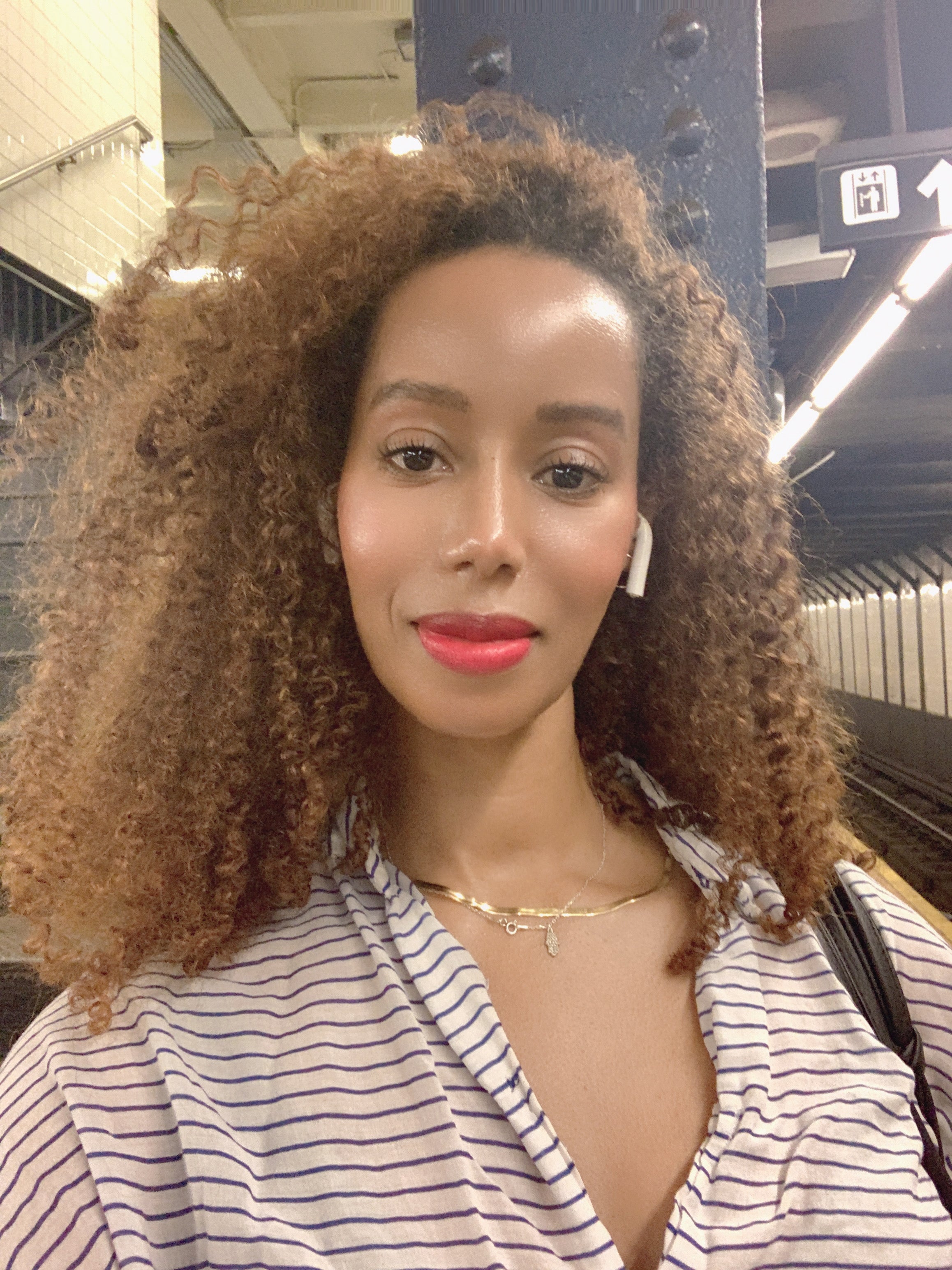 My Natural Journey:
Jazmin Alvarez
It cannot be said enough that we as women place a lot of value in our own hair. Many of us visit salons routinely, buy expensive products regularly, and some of us even wrap it in satin at night before bed. Our hair is precious to us, and can be so acutely treasured that it manifests as part of our identity. This is not necessarily a bad thing - our hair is quite literally a part of us. However, there is harm when this connection is used to help define what is "beautiful". For a long time in the Western world, long, straight hair was the standard of beauty and therefore favored and catered to the most. Within the last decade or so, however, the hair care industry has expanded to include several other kinds of hair, and women of color like myself have decided to use this time to embrace it. Nonetheless, the previous roots still run so deeply for us that it can be hard to part with. This is largely what makes getting a "big chop" such a frightening choice: the obsession with length.
A few weeks ago, I got the chance to sit down with the founder of PWB, Jazmin Alvarez, to talk about her natural hair journey as well. Like many other women, Jazmin's transition began as an attempt to forgo heat styling. However, the decision was largely driven by a fascination with the long hair she'd been associated with her entire life. Find out how "the girl with the long hair" chose to give up relaxers, overcame her fear of short hair, and found greater strength in her curly crown.
PWB: How would you define natural hair?
Jazmin: I would define it as having hair that is in its most natural state, in terms of both the texture and the color. It's completely unaltered from any permanent manipulation.
PWB: Have you always worn your hair in its natural state?
Jazmin: No, I started transitioning in 2016 and then I became fully natural in 2017.
PWB: What did your natural hair journey look like?
Jazmin: It was definitely a rollercoaster! First of all, I had no idea what my natural hair texture was like, so I was kind of going into it differently. I spent a lot of time at YouTube University just watching what other girls were doing with their hair, what they would use, and some of their techniques to figure out how I could also incorporate that into my hair. It was really challenging, especially when I was still going through the transition period and I had two different hair textures going on. Looking back, I kind of wish that I did do the big chop because I'd never had super short hair before. I see girls now with these cute, tiny, curly baby afros and I wonder what I would have looked like [with one], but I missed that because I was just so committed to holding onto the length as much as I could and growing my hair out. 
I also spent a lot of money on products that were not right for my hair. Along the way, I really started to understand more about the needs of my hair, what it likes, what it doesn't like, and creating a whole new routine around taking care of it. It was a very beautiful but also very frustrating experience, and my only regret is that I didn't do it sooner. 
PWB: What made you decide to go back to being natural?
Jazmin: They say when a woman changes her hair, she changes her life. At the time, I was going through a breakup, I had just gotten a divorce, and it was very cathartic. It was like me shedding this old part of me. Our hair holds a lot of energy so, by cutting off my hair, I was releasing a lot of weight and energy that was no longer mine from my previous life. It was very therapeutic for me: it forced me to see the beauty in a way I hadn't confronted in a way, and it made me get really comfortable within my skin because I didn't have all this long hair to hide behind. 
I remember going to the hair salon to get my hair trimmed and telling my stylist at the time that I was thinking about not straightening my hair ever again. I didn't know anything about the natural hair movement at the time or that I was joining it by doing this. I was really just experimenting to 1) see how long I could go without straightening my hair, and 2) to see what would happen. I was really curious about what it would look like.  
PWB: What would you say the most difficult part of your journey has been?
Jazmin: I think the biggest challenge was I had no idea if I was even going to like my hair after all was said and done. I had no idea if it was going to be cute or if it was going to grow to the length that I was used to it being. I've always had really long hair so I was nervous that it was going to take a really, really long time for it to grow, and that maybe I wouldn't like my natural texture. It was just all the unknown things that made me the most scared.
PWB: What is your favorite part about being a naturalista?
Jazmin: I would say [my favorite part is] the freedom. When I used to relax my hair, I had to always be conscious of the weather, whereas now that's not something I ever have to worry about. I don't have to wear a shower hat on my head; if my hair gets wet, it gets wet and it doesn't even matter. 
Also the ease and versatility! The fact that if I wanted to make my hair straight, I know I could without using chemicals. My hair gets straight pretty easily from just a blowout so, if I wanted to rock that look, I can.
PWB: What is something you wish you knew at the beginning of your journey that you swear by today?
Jazmin: There was a lot that I did already know because my mother was a hairstylist, so I learned a lot from her and I had a little bit of a heads up in terms of basic hair care. I knew not to use a lot of heat styling, don't do a ton of manipulation, and to focus on the health of your hair to get really good results. 
Find products that are formulated for your hair type, not for the type of hair you wish you had. I would also say you should really focus on the quality of your products and pay attention to the ingredients because they really do matter, especially when it comes to textured hair types. There are certain ingredients that you just have to stay away from because they're too harsh and textured hair is very delicate, but a lot of people don't know that. I knew I was going to have to be patient, so for anyone else, I would recommend patience as well.
PWB: LCO (leave-in conditioner, cream, oil) or LOC (leave-in conditioner, oil, cream)?
Jazmin: I am a LCO girl! 
PWB: What is your hair type and hair porosity now?
Jazmin: My porosity is low and I have a mixture of type 3A, 3B, and 3C hair.
PWB: What is your go-to hairstyle at the moment?
Jazmin: A wash-and-go is my go-to style! [However], in the winter time when I cannot go outside with soaking wet hair, I might do a braid out.
PWB: Do you have a go-to hair care routine? If so, could you tell us a little about it? 
Jazmin: I have a very consistent routine…I wash it every week - Sunday is my wash day - and I just kind of intuitively reach for whatever I feel like I want to use. I'm always focusing on my scalp just to make sure my scalp is clean, and if it's a co-wash then I'll concentrate that through the length of my hair, too. After I've washed my hair, I'll use a conditioner… to thoroughly detangle my hair with my fingers, gently separating the curls until it's fully detangled. After I rinse that out, I'll apply a deep conditioning mask in sections as well, pin my hair up into little space buns, and sit underneath my deep conditioning cap for about 30 minutes or so. Then I'll rinse that out with warmish-cool water (never hot water) and apply my products, which is just a leave-conditioner that's a little bit lighter, a thicker cream, and an oil in sections starting from the back. After that I just let it air dry for a really long time.
At night time, I sleep with it in a pineapple. I wrap it in a satin scarf, and the next day I'll just take my satin scrunchie off, shake my hair, and then it just does what it does.
PWB: What are your favorite hair products, clean or non-clean?
Jazmin: My favorites are the shampoo, the gel, and the cream from Holy Curls. From Innersense, I love their Hydrating Hair Mask… the Detox Hair Mask, and their Hydrating Cream Conditioner. From Nuele, I love their Hair Serum and then there's this other oil by another brand we don't sell at Pretty Well Beauty [R&R Luxury] that's basically a liquid Shea butter that I'm really in love with. This product is for face and body, but I use it as the last step in my wash-and-go. Also, Back To Your Roots by Shaz & Kiks - the one for curly hair - that product is amazing! These are my top products that are clean.
A non-clean product that I really love is a cream from the Mielle Organics Pomegranate & Honey collection that's for twists and braid outs, but I use it in my wash-and-go sometimes. Also from Adwoa Beauty, I really love their leave-in conditioner; that's a really good styling conditioner.
PWB: What about a product is a must-have for you to add it to your routine, besides it being clean?
Jazmin: Anything that provides really good slip and hydration that doesn't have a ton of overpowering fragrances in it.
PWB: Would you be interested in switching to all-clean hair products if they gave you the same results as your current routine?
Jazmin: Yeah! Most of my routine is already clean, so absolutely!
PWB: If there was one thing you wish you could tell your younger self about your hair, what would it be?
Jazmin: If I could go back in time, I would definitely NOT get a relaxer for sure.