How To Shop For Skincare With Hypersensitive Skin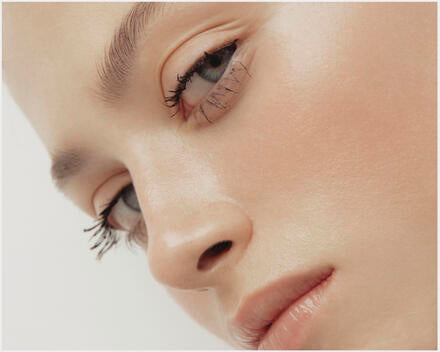 How To Shop For Skincare With Hypersensitive Skin
Do you sometimes have to hide the painful (and often embarrassing) skin symptoms you experience? The itchy bumps, the blotchiness, and inflammation that seems to be there one day and gone the next? If so, I'm right there with you. In fact, several of my core memories involve my mother explaining to me why I couldn't wear scented lotions or perfumes like other girls, or use those floral, sweet-smelling body washes from Bath & Body Works in the shower. I was born with sensitive skin, eczema to be exact, and just about everyone in my immediate family has it. Even though I spent a lot of time hiding it, having sensitive skin is actually more common than we think (about 60% of adult women and 50-60% of adult men have some degree of it). However, it wasn't until recently that I came across a similar sounding condition called sensitized skin. What is it, how does it happen, and what makes it similar to and different from hypersensitive skin? Let's break it all down. 
WHAT DOES IT MEAN TO HAVE SENSITIVE SKIN?
Naturally sensitive skin is a common condition characterized by daily atopic irritation based on genetics. Simply put, you have to be born with it, but to further understand what it is, let's also discuss what occurs on the cellular level. 
When the skin's lipid barrier is weakened or broken down by triggers, the nerve endings in the top layer of the skin become easily irritated. Once this happens, it is no longer able to tolerate harsh weather conditions, environments, chemicals, or even certain diets like healthy skin is. Many factors can potentially result in sensitive skin over generations, including the elements, topical products, hormones, sleep deprivation, and even air pollution! However, not all sensitive skin is the same. It is a blanket term for the four types of intensity: naturally sensitive (genetic), sensitized skin (environmentally sensitive), reactive (extremely sensitive/hypersensitive skin), and thin/damaged skin. 
WHAT ARE THE SIGNS?
Those who have any level of skin sensitivity have a few visible symptoms in common - redness, irritation, and inflammation. Symptoms unseen as well. Here are the most common clues to look for:
PATCHES OF REDNESS, SWELLING, OR SORES

DEVELOPMENT OF RASHES THAT ITCH, STING, OR BURN

INFLAMED SKIN

VISIBLY BLOTCHY, DRY, AND IRRITATED SKIN

A FEELING OF TIGHTNESS, OFTEN DUE TO DEHYDRATION

THIN SKIN TEXTURE WITH A TRANSLUCENT APPEARANCE 

YOU'RE PRONE TO BREAKOUTS

FLAKING, PEELING, OR CRACKING ON THE CHEEKS AND/OR FOREHEAD

YOU SUNBURN EASILY
THE 4 MOST COMMON INFLAMMATORY SKIN DISORDERS
Now that you have a better idea of what to look for, here are the four most common skin allergies that are believed to be passed through families:
ECZEMA
Less popularly known as atopic dermatitis, eczema is an inflammatory condition of the skin that is linked to an overactive immune system. It is attended with itching and the exudation of serous matter, and there is more than one kind. While almost anyone can have dry skin, eczema develops from a combination of genealogical and environmental factors; this means a person will most likely develop it from their parents. It impacts children and adults alike and can pop up just about anywhere on the body, though it is not contagious and flare-ups usually come and go. 
ROSACEA
Rosacea is a common skin allergy that causes redness across the facial skin of the cheeks and nose, as well as repeated flare-ups. This redness is caused by dilated blood vessels that are close to the skin's surface and can occur with or without pustules, bumps that are often confused with acne. In actuality, pustules are a result of chronic skin inflammation and blood vessels where the rosacea takes place. The exact cause of this disorder is still unknown, but correlations have been found between rosacea and family history, diet, alcohol, exercise, and smoking.
CONTACT DERMATITIS
Unlike atopic dermatitis, contact dermatitis is, as the name implies, a common red skin rash caused by direct contact with an irritating substance (i.e plants, jewelry, or beauty products). This form of eczema can be aggravated by other stimuli, such as dry skin, irritation from skincare products, sweat, extreme temperatures, certain fabrics, and household detergents and other cleaning products. The substance can only irritate the skin or send it spiraling into an allergic reaction.
PSORIASIS
Psoriasis is a very common, immune-mediated disease in which skin cells build up and form raised, scaly patches of red, dry, and itchy skin. This is because the skin cells are multiplying up to 10 times faster than the normal rate. Psoriasis usually shows up on the knees, elbows, and scalp, and there are several kinds. The most common causes include infections such as strep throat or skin infections, severe sunburn, stress, cold, and injuries to the skin such as cuts or scrapes. In severe cases, these patches will grow, merge with one another, and can crack or bleed. 
SO WHAT IS SENSITIZED SKIN?
Although naturally sensitive skin is caused by a genetic predisposition and sensitized skin is not, the signs are almost identical. Sensitized skin is acquired through outside factors in your environment. Maybe you just moved to a metropolitan area; if your skin has become sensitized, you may experience stinging pain or redness when exposed to pollution, the sun, or smoke. Sensitized skin is also a side effect of overdoing it on harsh topicals. If you've been using anything with a large amount of retinol or exfoliating acids in it and don't have a history with any of the predicaments listed above, this may apply to you. 
THIN OR DAMAGED SKIN
If your capillaries or veins are easily visible, this sensitive skin type may apply to you. Thinning skin is a concern that mostly arises when we age, as the elastin and collagen begin to decline naturally. It appears redder when stimulated externally; this is because the blood capillaries reside in the outermost layer of the skin. 
REACTIVE SKIN
And finally, we arrive at the reactive type, also known as hypersensitive skin. You can think of it as the most extreme version of sensitive skin. Hypersensitive skin is more common among those with lighter skin tones and immediately reacts to products and procedures. In addition, there are three consistent symptoms that befall any person with the hypersensitive skin type, known as the Hypersensitive Skin Triangle:
A COMPROMISED BARRIER FUNCTION -

makes skin susceptible to irritants AND results in increased levels of trans-epidermal water loss. This can lead to a dry complexion.

HYPER-REACTIVE SENSORY FIBERS IN THE EPIDERMIS

- these fibers will react much faster and stronger than in normal skin and are easily activated by stressors. As a result, unpleasant sensations like stinging, burning, or tightness are triggered. 

REDNESS

- often caused by inflammation
Because sensations are non-visible and pain tolerance levels vary from person to person, it is especially difficult to diagnose someone with hypersensitive skin. The stinging, burning, and tightness can also come and go depending on the amount of exposure. Hypersensitive facial skin can be brought about by all previously mentioned stressors and more, including external (impure cosmetics and detergents, fragrances, excessively calcareous water, baths, showers, swimming pools, etc.), environmental (dramatic temperature changes, extreme hot or cold, wind, sun, etc.), psychological (intense emotions like anger or stress), hormonal (the menstrual cycle), and mechanical (anything that can put physical pressure on the skin). Less ingredients are most beneficial for those with hypersensitive skin.
SENSITIVE SKINCARE DO'S & DONT'S
If you or someone you love has a skin allergy, knowing what causes an undesired reaction is crucial to approaching skincare and guiding the development of a personal routine. Here are a few basic principles to go by when shopping while sensitive:
DON'T: Wear synthetic perfumes
These kinds of fragrances are cheaply made without sensitive skin in mind.
DO: Try 100% Natural Perfumes
Yes, it is possible to have sensitive skin and still enjoy wearing floral scents! The Moroccan Rose Perfume Oil by Malaya Organics is a blend entirely made from essential oils like Rose, Osmanthus, Geranium, Bitter Orange, and Bergamot Oil. You'll be smelling like a fresh bouquet in no time.
DON'T: Use artificially scented lotions
Scented lotions are packed with synthetic ingredients like fragrance and lanolin, which can severely irritate your skin condition. 
DO: Lather up with a natural body butter
Not only is this natural, whipped body butter made with pure shea and vanilla, but is cocoa butter for skin as well. Its deeply hydrating formula softens even the driest of skin types. Apply any ILERA Apothecary body butter while skin is still moist after bathing to minimize dryness. 
DON'T: Wash with "deodorant" soaps
These soaps might reduce body odor, but they dry out the skin as well. They can also cause rashes and destroy good bacteria, increasing the risk of skin infection. 
DO: Lightly apply a gentle facial cleanser
The Black Rose Cleansing Gel by Leland Francis is truly suitable for all skin types. Each formulation is meant to complement your skin's natural pH and this cleansing gel is the best facial cleanser for sensitive skin. This Activated Charcoal face wash works to deeply cleanse, gently exfoliate, and remove impurities without the dryness. For body, try the Soothing Rosemary & Lemongrass Beauty Bar by Malaya Organics. 
DON'T:
Invest in ordinary sweat protection
Those antiperspirants can contain aluminum and too much of it has been linked to serious health problems, such as bone diseases, weakened kidneys, and even dementia. Another common, and harmful, additive are parabens. These chemicals can sometimes behave like estrogen inside the body, causing hormonal imbalances and certain cancers.
DO: Choose a deodorant for skin health
There's been a lot of buzz surrounding natural deodorants over the last half decade and there's a good reason why. Not only are the alternatives safer for you, but this one by Tierra & Lava is perfect for those with more sensitive underarm skin! A zero waste deodorant that comes in compostable packaging, it also comes with an armpit detox that preps the skin and maximizes the benefits of this unisex deodorant.
DON'T: Skip your SPF
If you've been following us for a while, you know this step is a no brainer. Absolutely no cheat days!
DO: Apply sunscreen year-round
Who says you can't get your skincare on while also staying protected? The Nutrient Day Cream SPF 30 by Josh Rosebrook fights inflammation, regenerates moisture, and performs as a broad-spectrum sunscreen all at the same time. Apply 15 to 30 minutes before going out and reapply every 80 minutes after swimming (or if you've been sweating frequently). 
INGREDIENTS TO LOOK FOR
These maintain and nourish the skin barrier:
ALOE VERA

NIACINAMIDE (VITAMIN B3)

GLYCERIN

HYALURONIC ACID

SHEA BUTTER

CERAMIDES

NATURAL OILS (ARGAN, BORAGE, JOJOBA, CALENDULA, ETC.)
INGREDIENTS TO AVOID
LANOLIN

ARTIFICIAL FRAGRANCES

ALCOHOL

RETINOIDS (OR ALPHA-HYDROXY ACIDS)

SULFATES

GLYCOLIC & SALICYLIC ACIDS

PRESERVATIVES
HOW TO HEAL SENSITIVE SKIN
Since it lacks genetic origins, there are a few ways to get your skin barrier back in fighting shape once it has been sensitized. First, simplify your skincare routine. Only include a gentle, fragrance-free cleanser (like the Extra Sensitive Facial Cleanser & Makeup Remover by Honey Girl Organics) and a barrier-repair cream (like the Extra Sensitive Face & Eye Cream by Honey Girl Organics), preferably those designed to fight the effects of pollution. After that, begin patch testing other products you've used to uncover where the sensitization is coming from. Look for patterns. Sensitized skin will return to normal when it is no longer being exposed to the ingredient or environment that triggered it. 
Hypersensitive skin doesn't have to impact your quality of life either. To bring hypersensitive facial skin back to normal, all three sides of the Hypersensitive Skin Triangle will need to be addressed. 
As for naturally sensitive skin, it does not go away, but it can be managed. Some people change their treatment protocols and lifestyles just to accommodate their sensitive skin. Others just discover their triggers and then do their best to avoid them. The most important thing is to keep it simple and focus on using emollient items that also support a healthy skin barrier.
Having sensitive skin is not considered a medical condition and because of it, most people don't usually seek medical assistance for mild reactions from skin care products. However, we do recommend seeing a board-certified dermatologist if you think you may have it or your skin condition worsens, as this may signal larger underlying conditions. 
CONCLUSION
In the world of skincare, sensitive skin is one of many buzzwords with several products marketed toward it. However, because this industry is not as closely regulated, those with this skin type should be extra cautious while shopping to avoid very real side effects. Be wary of products deemed "hypoallergenic" or "sensitive-safe", and use your discernment. You are the best judge of what is best for you. Living with a sensitive skin disorder can be frustrating and disconcerting at times, but it doesn't mean you can't enjoy skincare.
(Don't have sensitive skin? No worries. We've laid out all five skin types and how to discover yours. And, when those occasional flare ups turn out to be acne, here's how to win the battle of the blemish.)