Category_#CLEANbeautyedit
Coming Clean:  How to Transition to Clean Beauty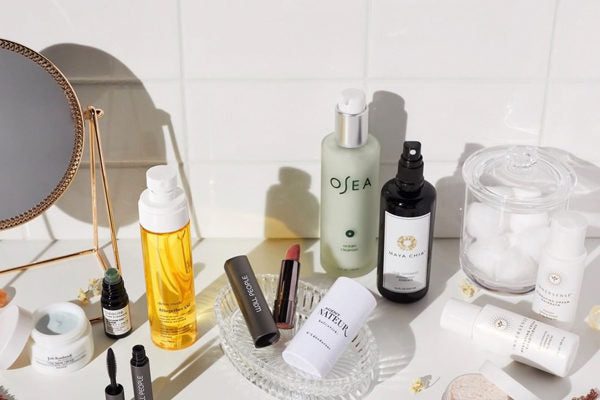 Coming Clean: How to Transition to Clean Beauty
Clean Beauty for me has been imbedded into my DNA since I was young. I have fond memories of whipping up hair and face masks using ingredients from the refrigerator and pantry at home with my aunt.
As I got older I started using more traditional personal care and beauty products like most people so when people ask how I made the switch to clean, it wasn't what they expected. I didn't do a major overhaul all at once, instead I transitioned over time and today everything I consume is 100% non toxic and completely safe again. It was a fun experimental journey to say the least! I didn't love everything I tried at first and some times I hated I now love.
There was definitely a trial and error period and that's something that will likely be on-going as more and more brands emerge. But I do have some tried and true favorites. Some new and some that have been with me since day one. Here are my tips that anyone can use to clean up their beauty act for good:
Start small: It's not always realistic or economical for most people to toss away everything their using and starting from scratch. I recommend starting with a couple products to begin with.
Prioritize: Products to start with should be items that will spend the most time on your skin and not something that you wash off after a minute like a face cleanser or body wash. My top 5 products to start with:
Face serum/ oil

Body lotion/Body oil

Deodorant

Shampoo ( While this doesn't stay in your hair very long the pores on the scalp are larger than the rest of your body, so you want to make sure anything touching your head is as clean as possible)

Toner/hydrosol
Clean Beauty Swap! As you run out of whatever traditional products you're using, replace that item with a clean alternative. This is much more of an approaching way to fully transition to clean beauty.
Get to know Ingredients: Get into the habit of reading ingredient labels. Arming yourself with the knowledge of what is clean vs toxic will help make shopping that much easier because you'll be able to spot ingredients to stay away from faster. Download the Think dirty App or refer to the EWG website and plug in ingredients there. There are great preliminary sources at your finger tips that will come n handy.
Go old School! DIY! Can't afford to buy clean beauty yet but you still want to use something safe and effective? Try heading to your kitchen and pantry to make anything from face masks, scrubs, bath soaks, hair masks, and lip balm. With just a few staple ingredients you can mix and match to make your own beauty products. Be warned, it can get a bit messy and there is a certain level of trial and error here too but there are so many sources you can find. I love youtube for finding cool DIY beauty recipes.
Don't give up: Another common thing I hear is that clean beauty made them break out or that it wasn't as effective. Break outs are common sometimes because it's the body's way of eliminating the toxins from the old traditional beauty and personal care products you were using. This is a normal thing and you want those to harmful toxins purged from your skin. And clean beauty is actually more effective than traditional beauty because the body responds better to ingredients that it naturally recognizes therefore making it much more compatible to your body than something chemically altered or synthetic. All these things take time but is such an important practice when transitioning to clean beauty. By doing so you are making a huge impact not only on the health of your body but on the health of the environment. And don't forget, this is a journey and everyones process will look slightly different than yours so start it as soon as you can and I hope you have fun along the way!
xoxo PWB